135compact.com

8x11mm ultra compact cameras Minox Accessories and Film




The first Minox was released in 1936 by Walter Zapp, a Baltic German. The camera uses special Minox film* (see below). The Riga factory VEF manufactured the camera from 1937 to 1943. After War the camera was redesigned and production resumed in Germany in 1948. Due to its tiny size, the Minox was rapidly well known as a spy camera. Walter Zapp originally wanted the Minox to be a camera for everyone, requiring only little photographic skills. The camera was produced to high standards, manufacturing costs of the Minox were too high for a broad market. So it became more or less a luxury item. All Minox cameras are designed to be used at full aperture, so there is no aperture setting. This needs good optics. They are able to focus down to 20cm (!)

* Minox subminiature film is a special film format for 8x11mm negatives on 9.25mm film. It is often referred to as 8mm film, which is wrong, as 8mm is a movie format. It comes in cartidges or cassettes, ready to load like the much later 110 film.

Minox film is still made by other companies, but it's a bit hard to find. If you have some cartridges, you can reload them. You will need a matching film slitter, a dark room or a good changing bag and some patience. More information on cartridges and film are at the bottom of this page..



There are quite some helpful accessories for the Minox. The first ones are the case and the chain, delivered with all Minoxes. You have seen both on the camera pages. I'm not a collector, so there is just a small choice of useful accessories.



Some pictures of the

clamp and tripod

:



The box.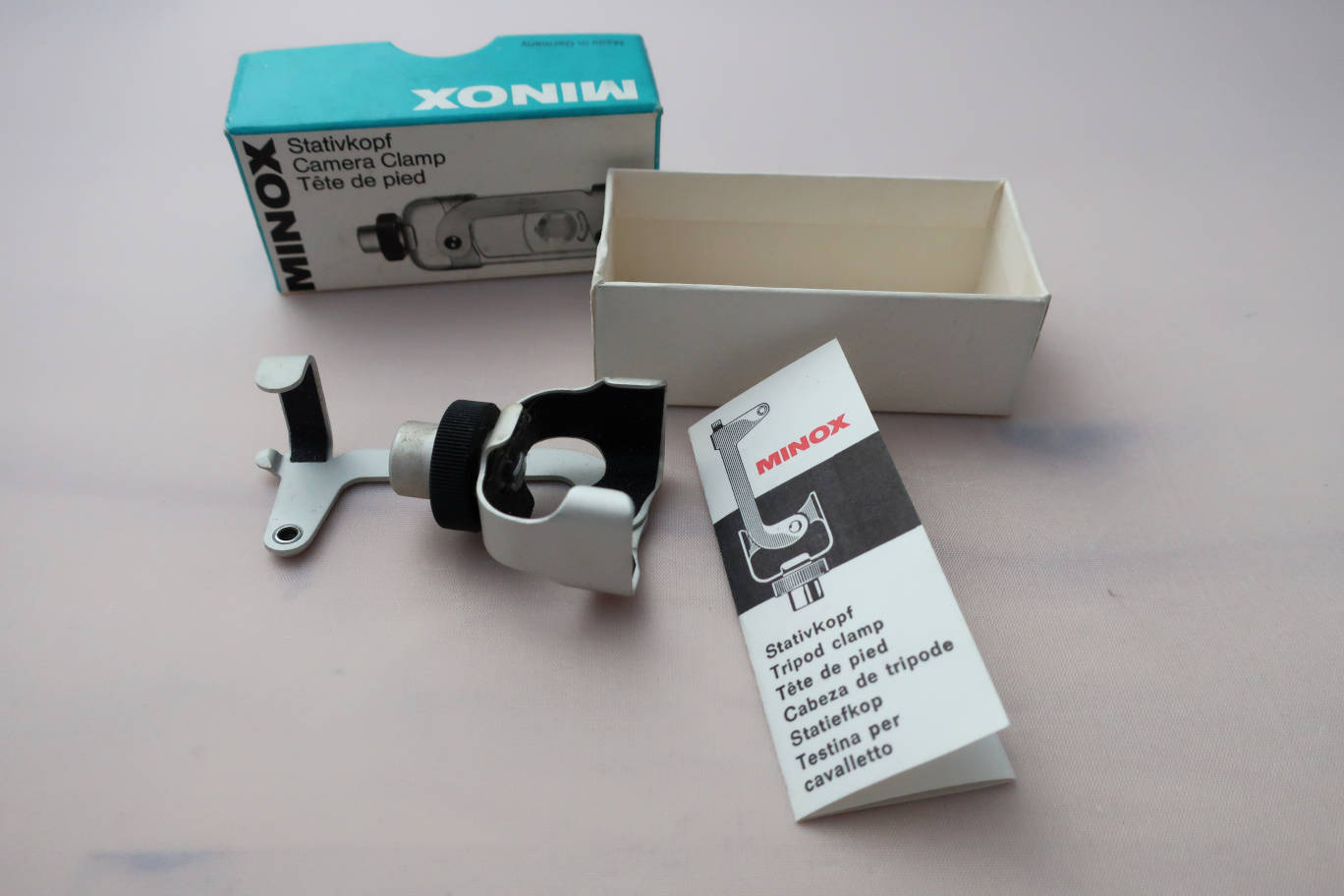 What's in the box..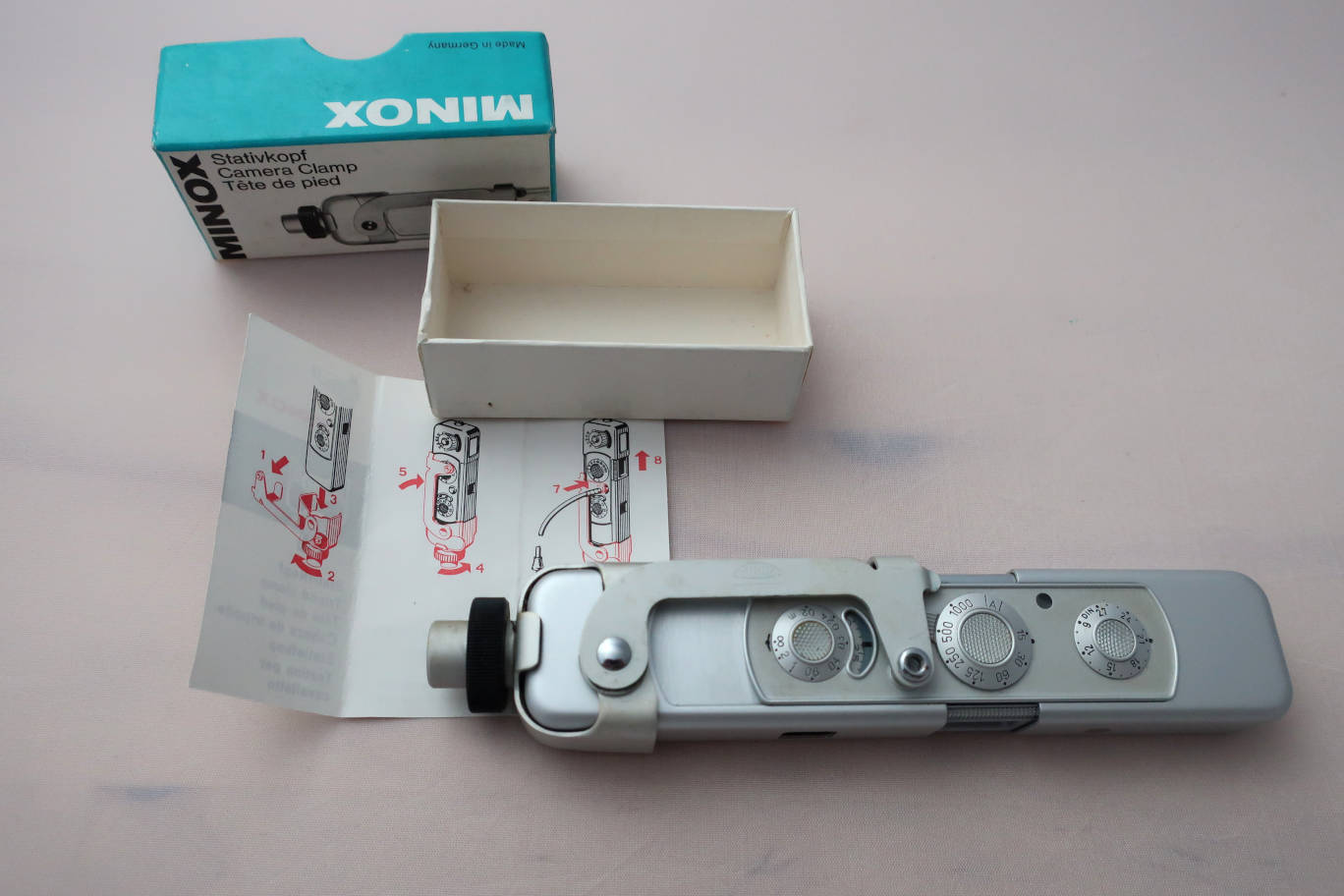 The clamp fixed to the camera. The base has a standard tripod socket.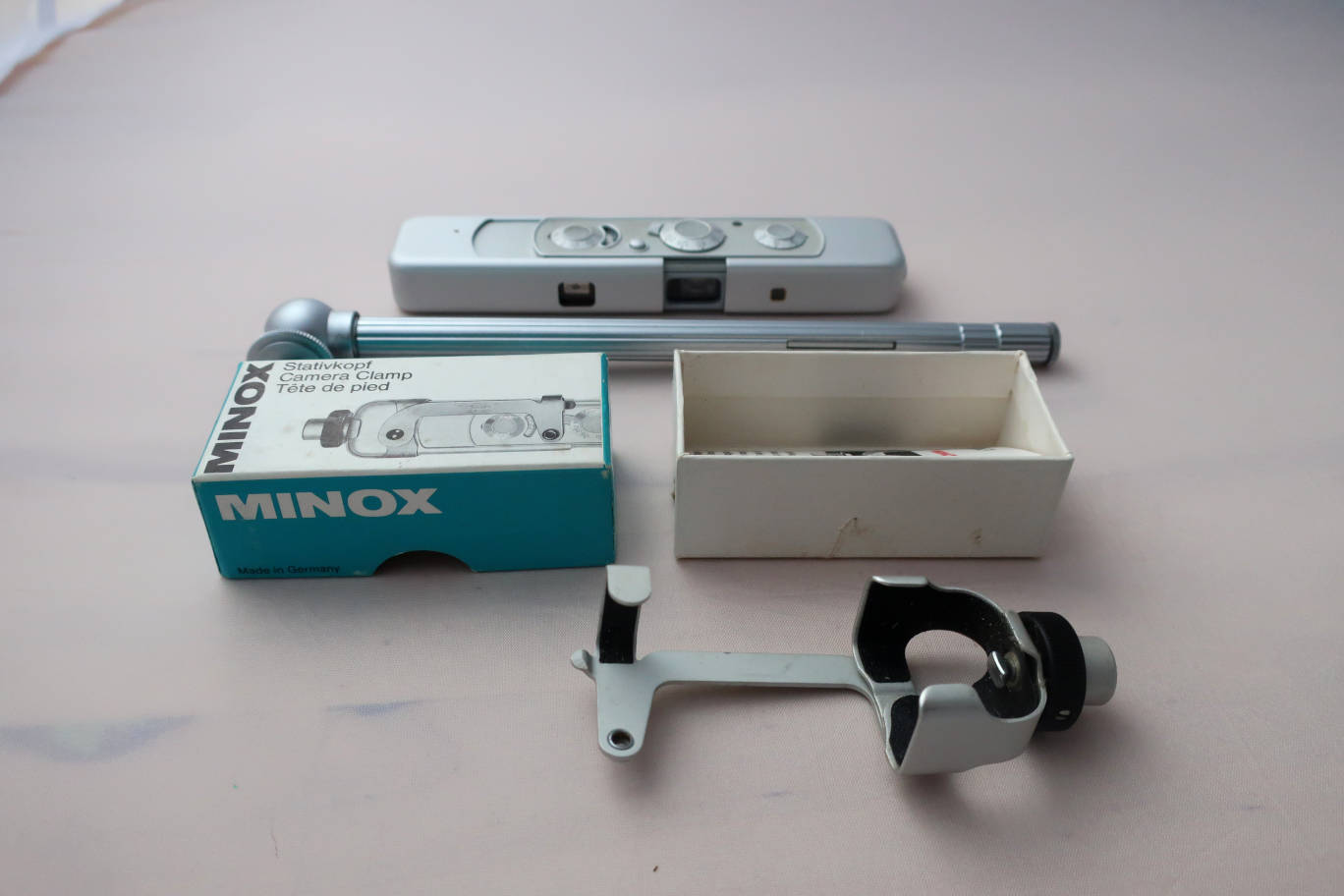 Camera, clamp and tripod. The clamp fixes in place of the chain/case.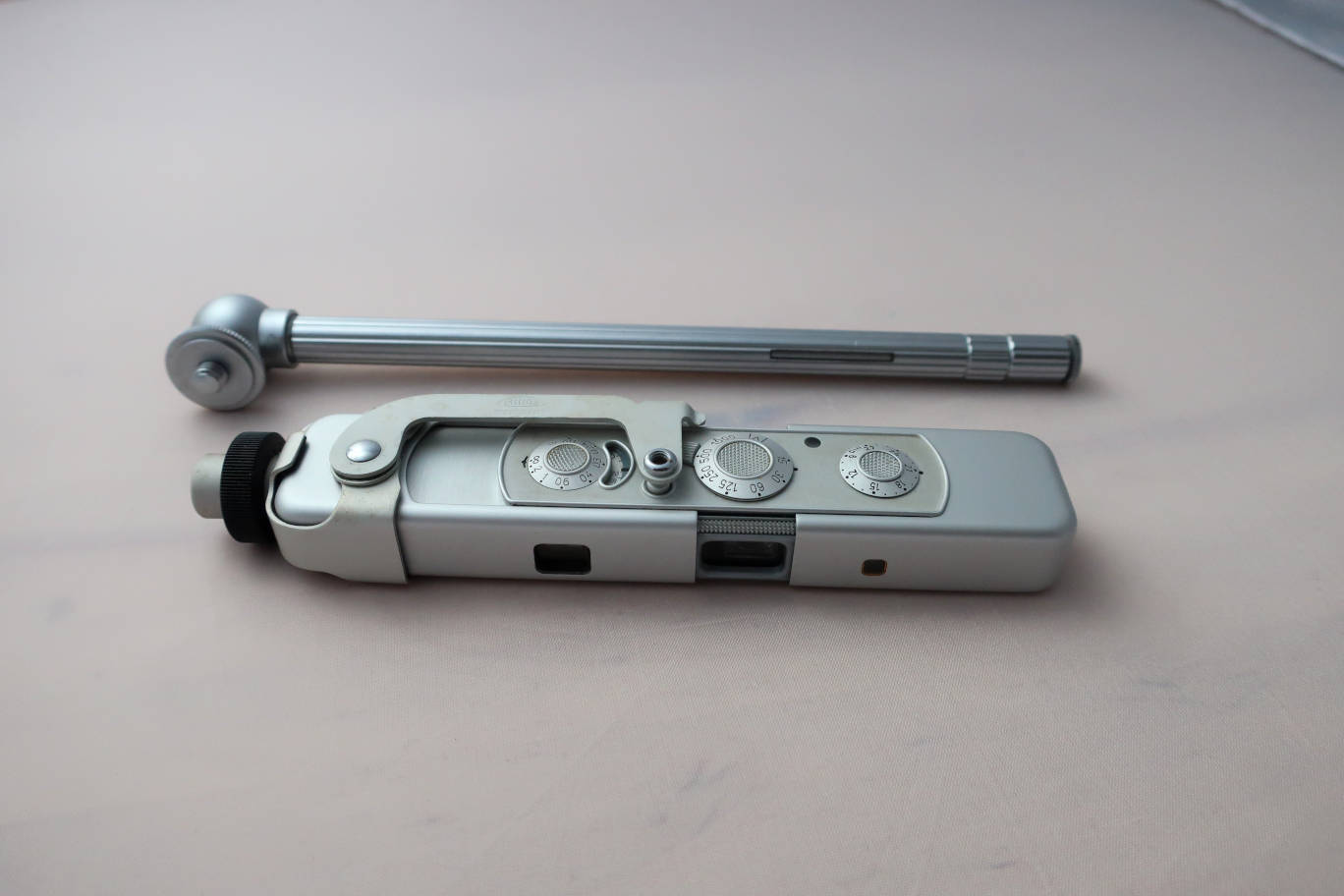 This is all you have to carry.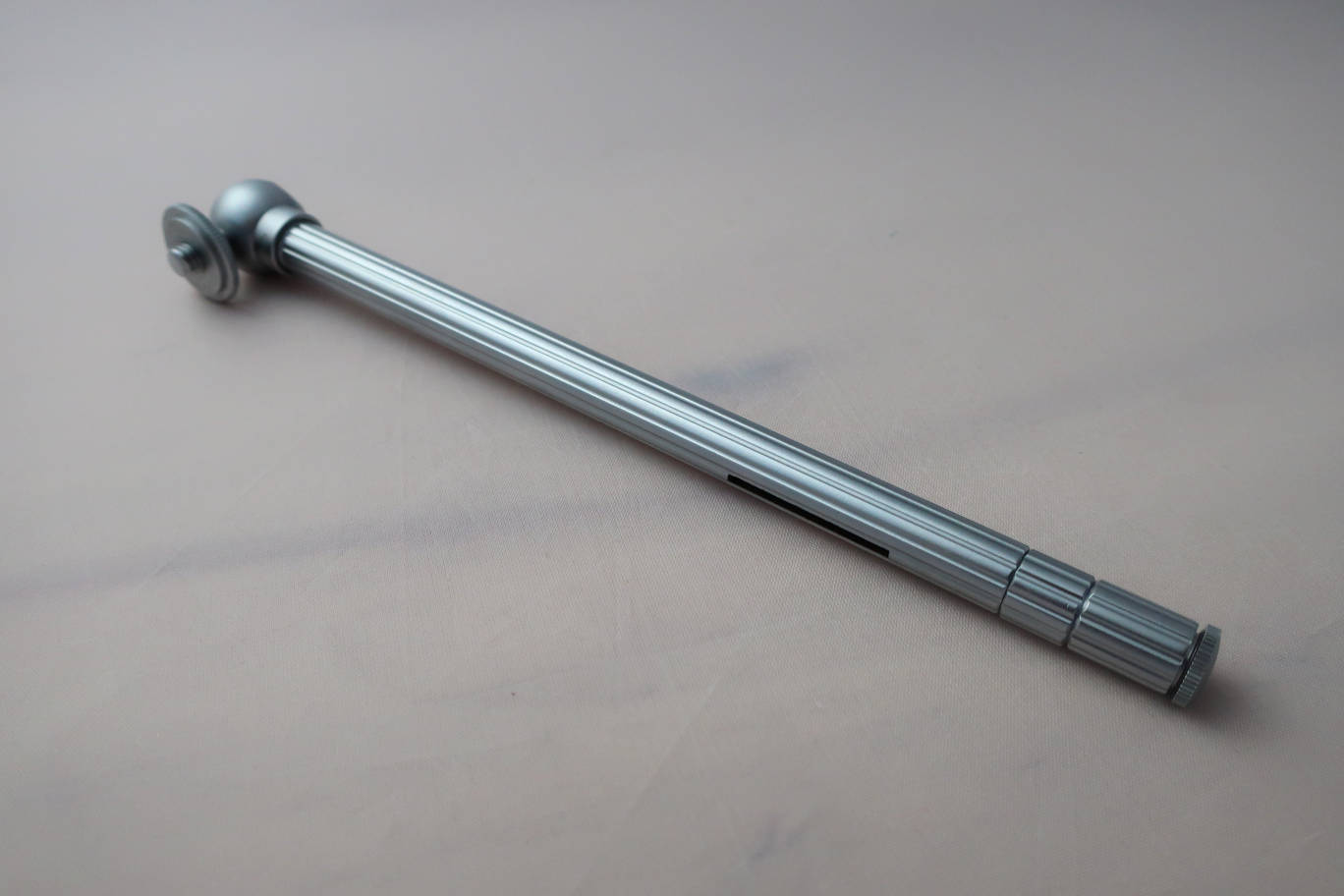 The special Minox tripod assembled.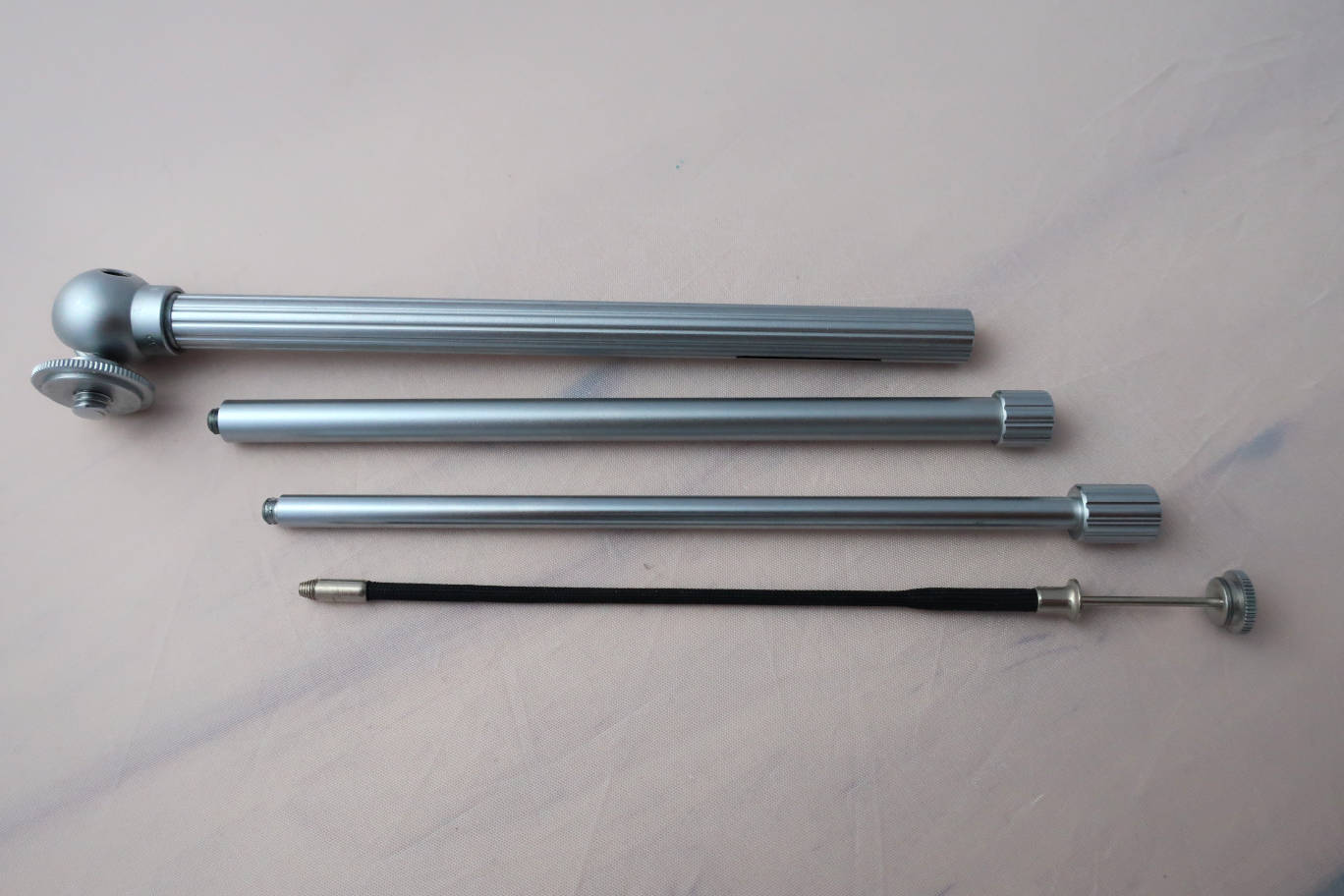 Everything at hand, even a cable release. Very sophisticated.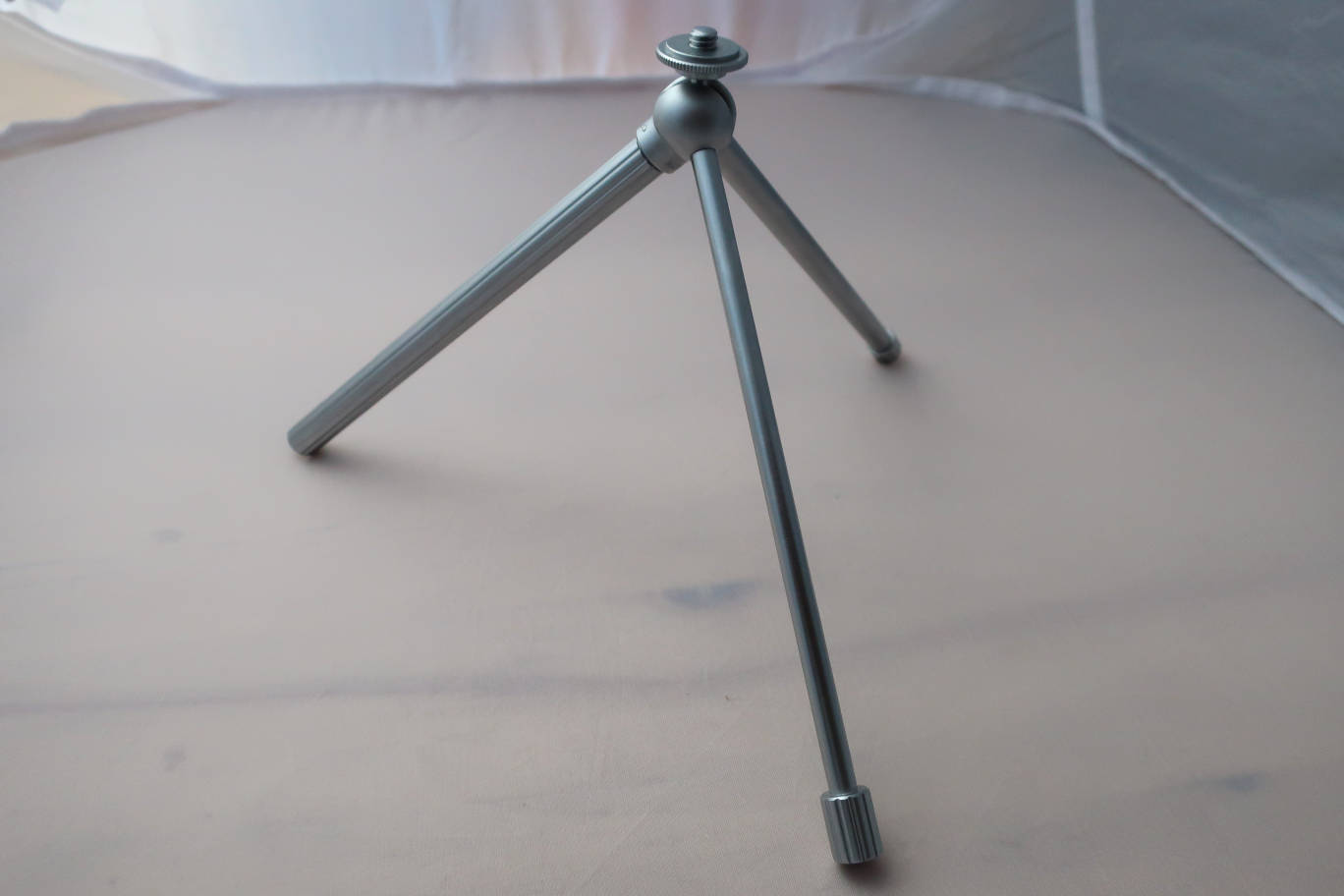 A small tripod with a ball head
.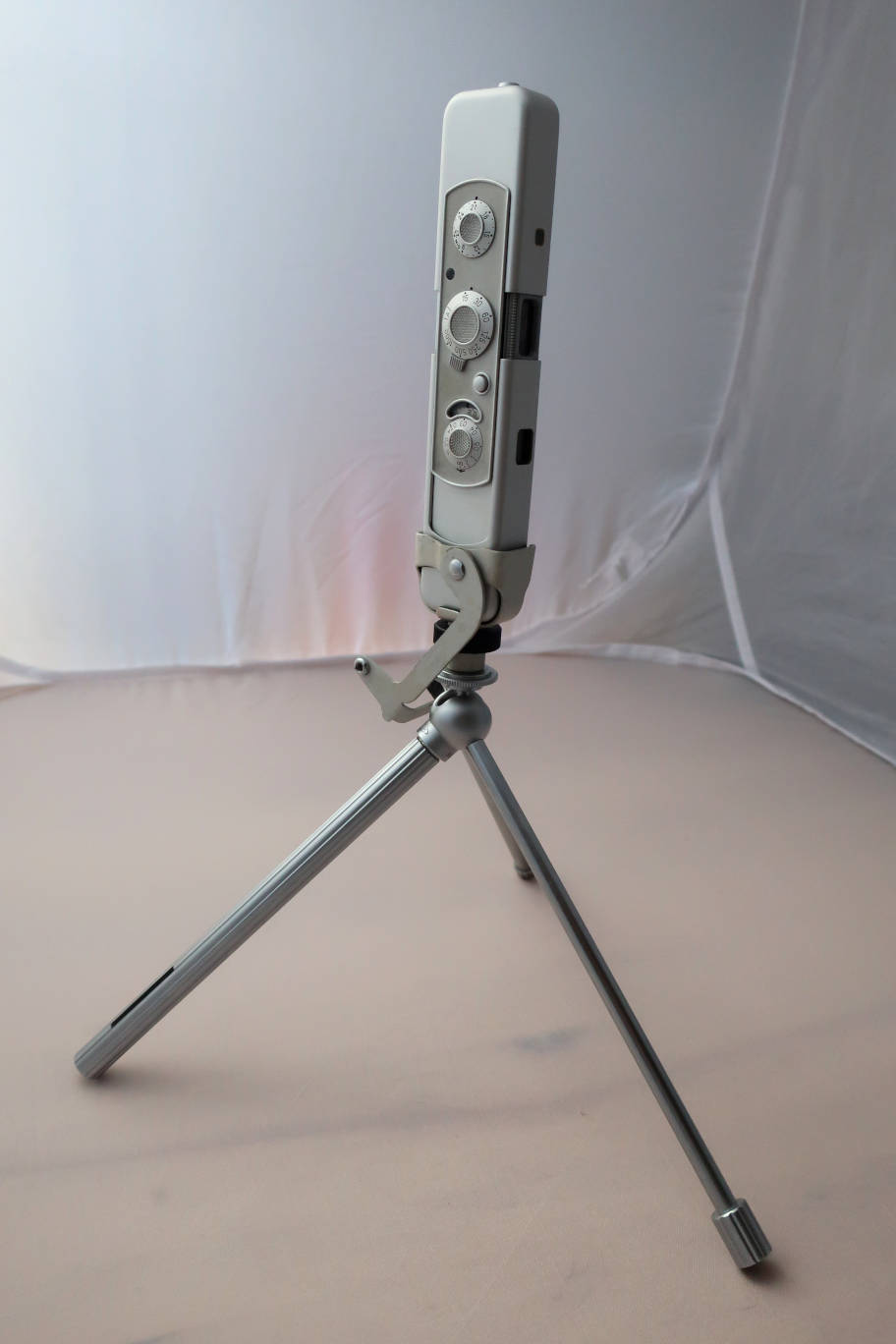 Camera on tripod, shutter release accessible
.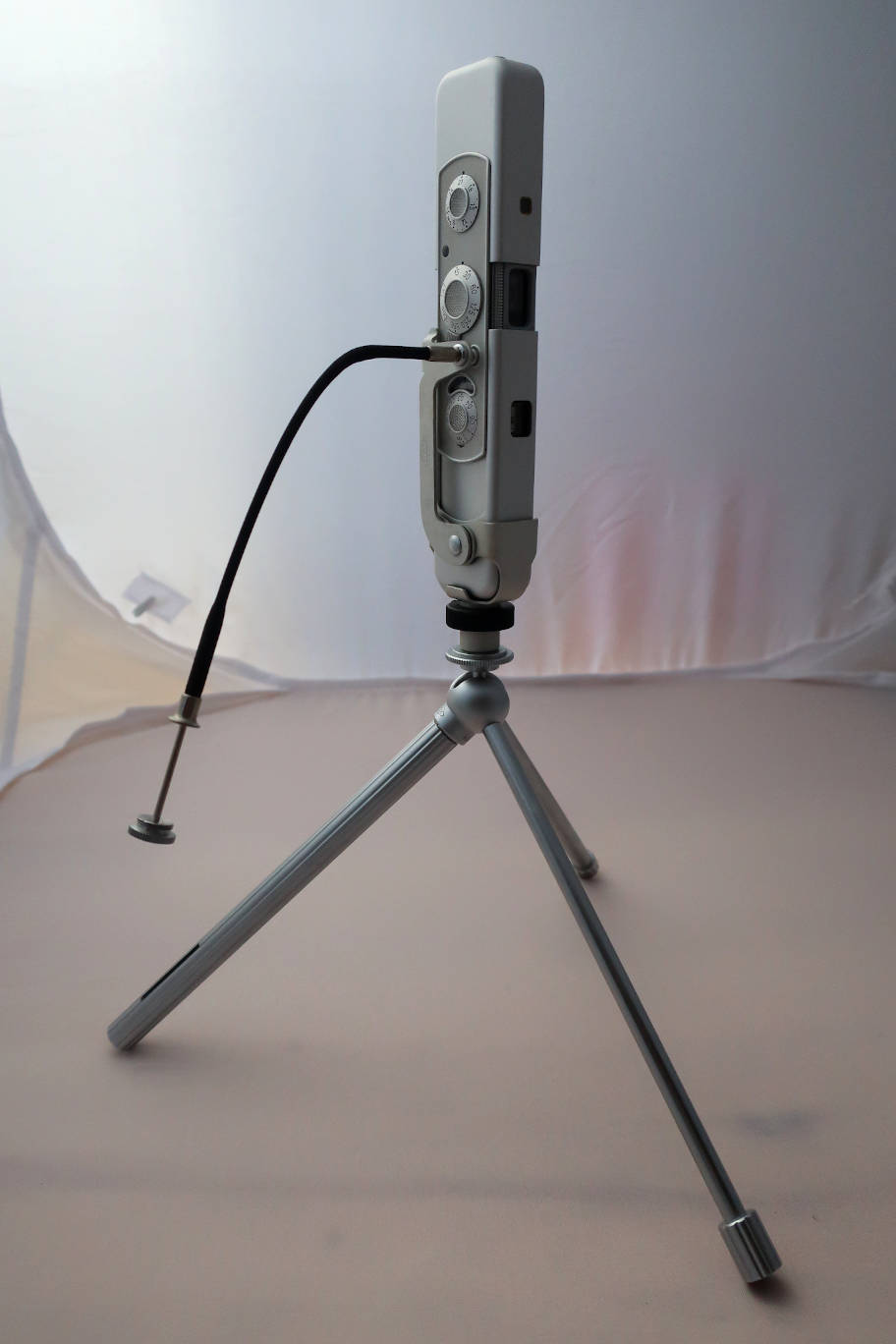 Camera on tripod with cable release.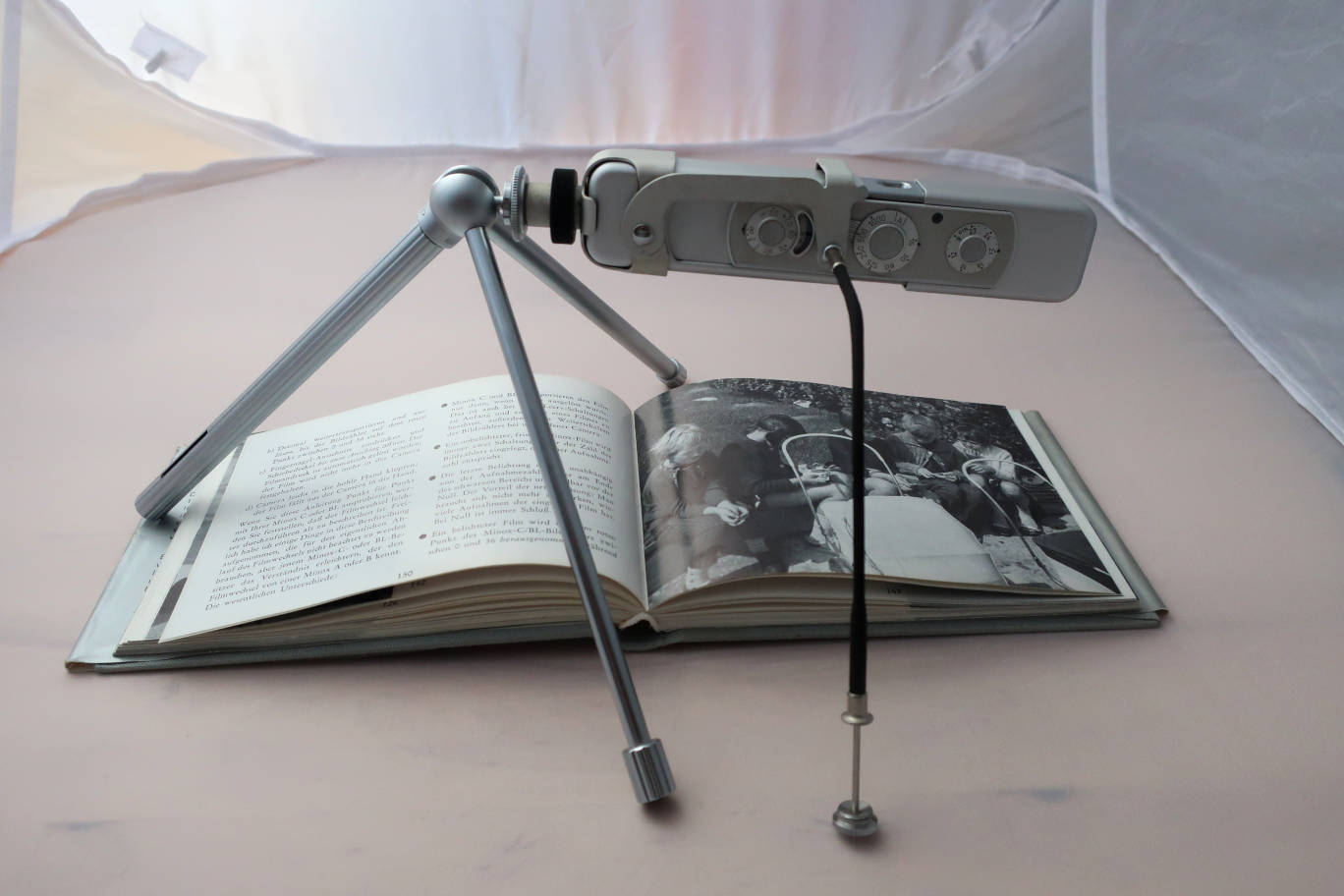 Just to illustrate, the camera is too close to the book, less than 20cm. If you turn the camera by 90°, you can take landscape photos.

This is a special

flash connector with hot shoe

. The Minoxes had bulb flashes. Bulb flashes are a good choice, they are small and powerful. As bulbs and bulb cubes are no longer made (but still available), you may wish to use a tiny electronic flash.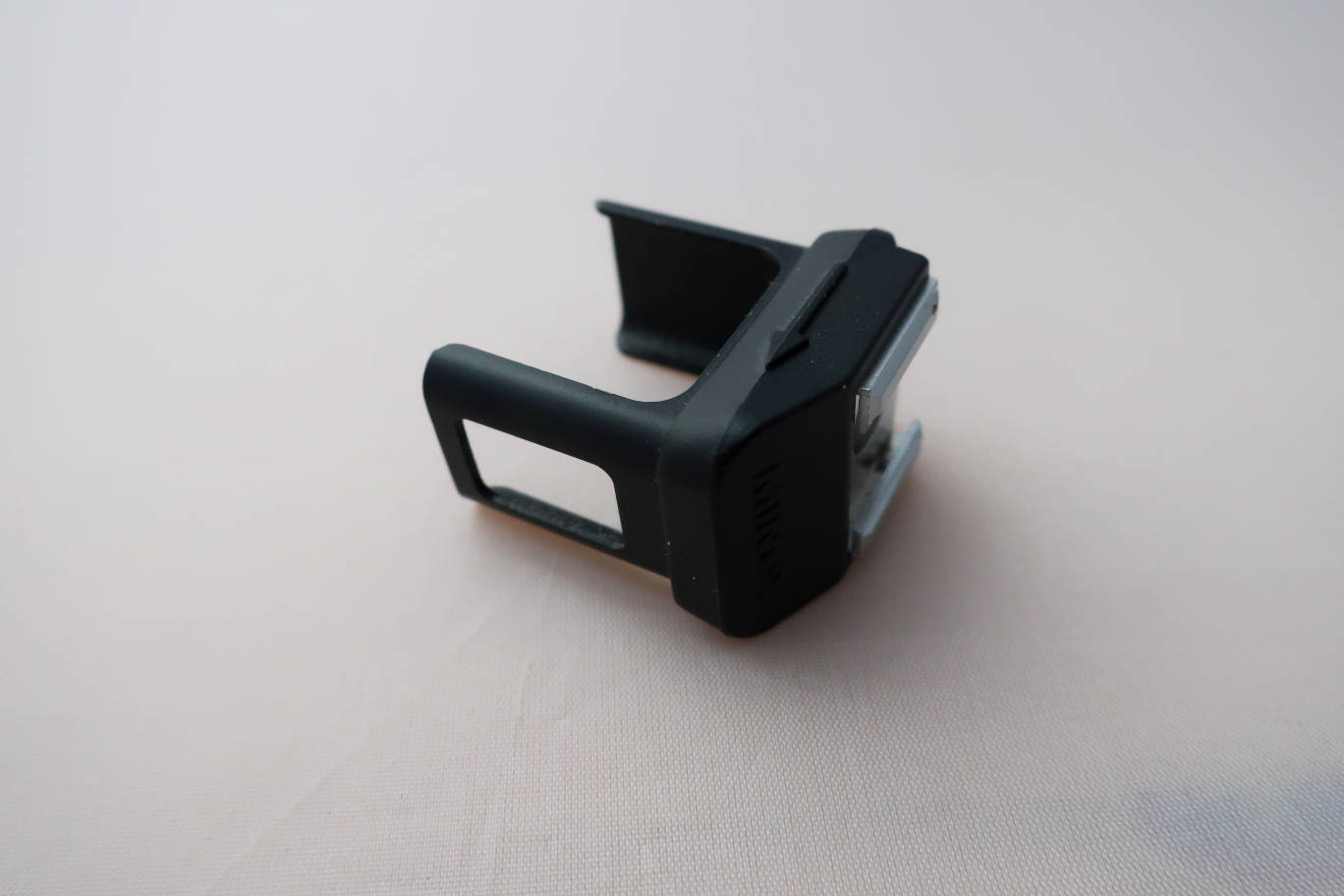 A very small item. It fits the B and the C, there is a window for the selenium cell of the B.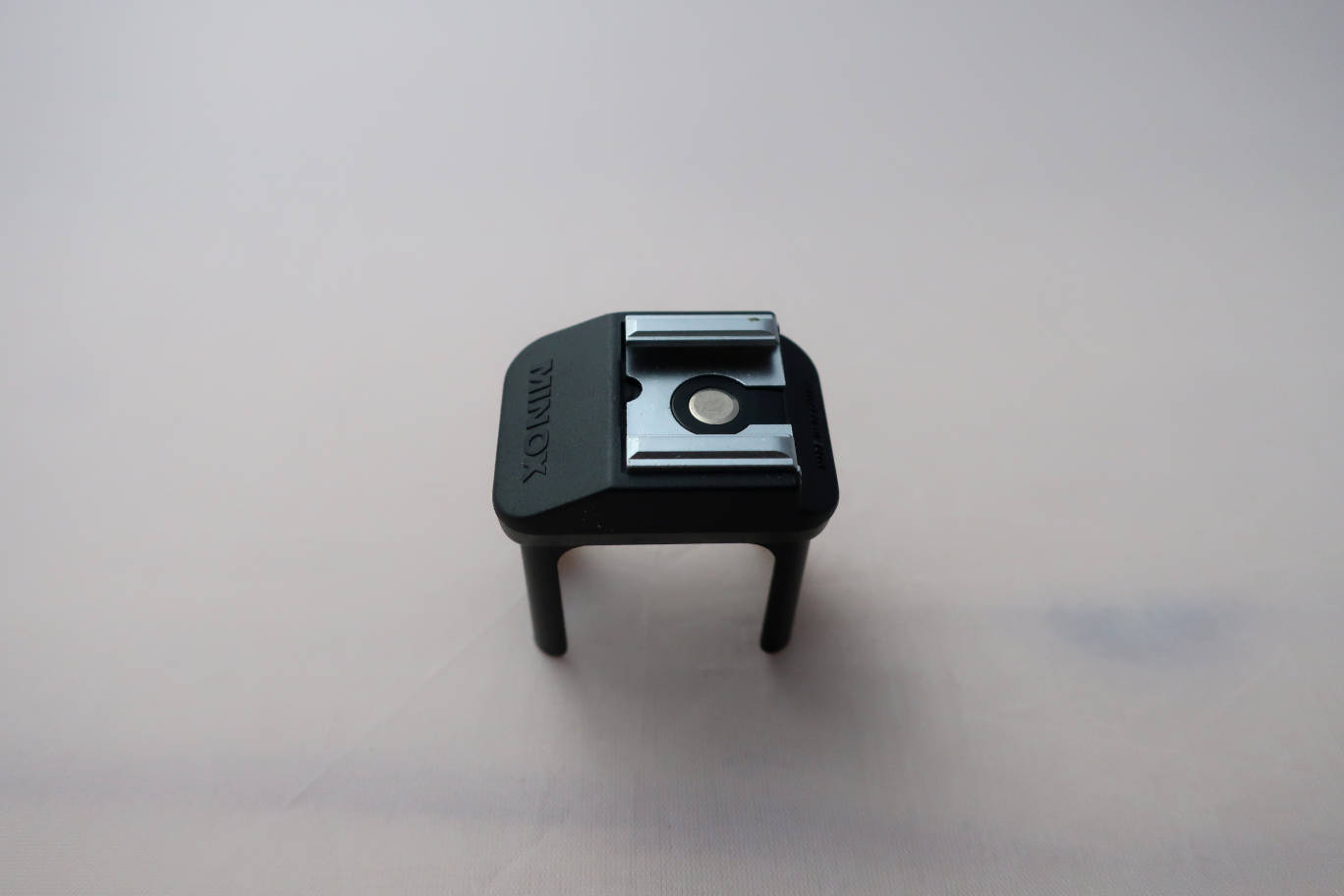 Standard hot shoe.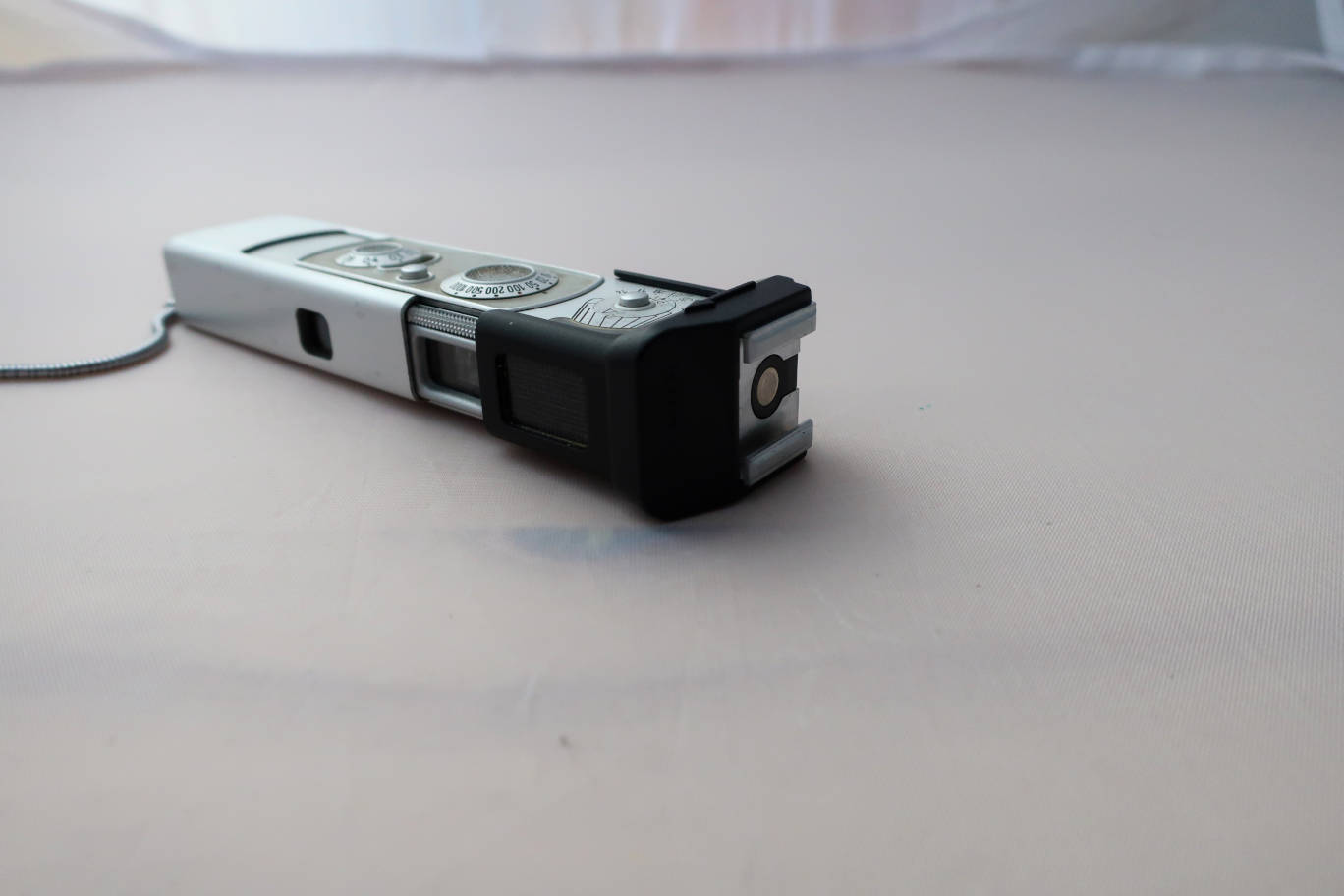 Camera and shoe.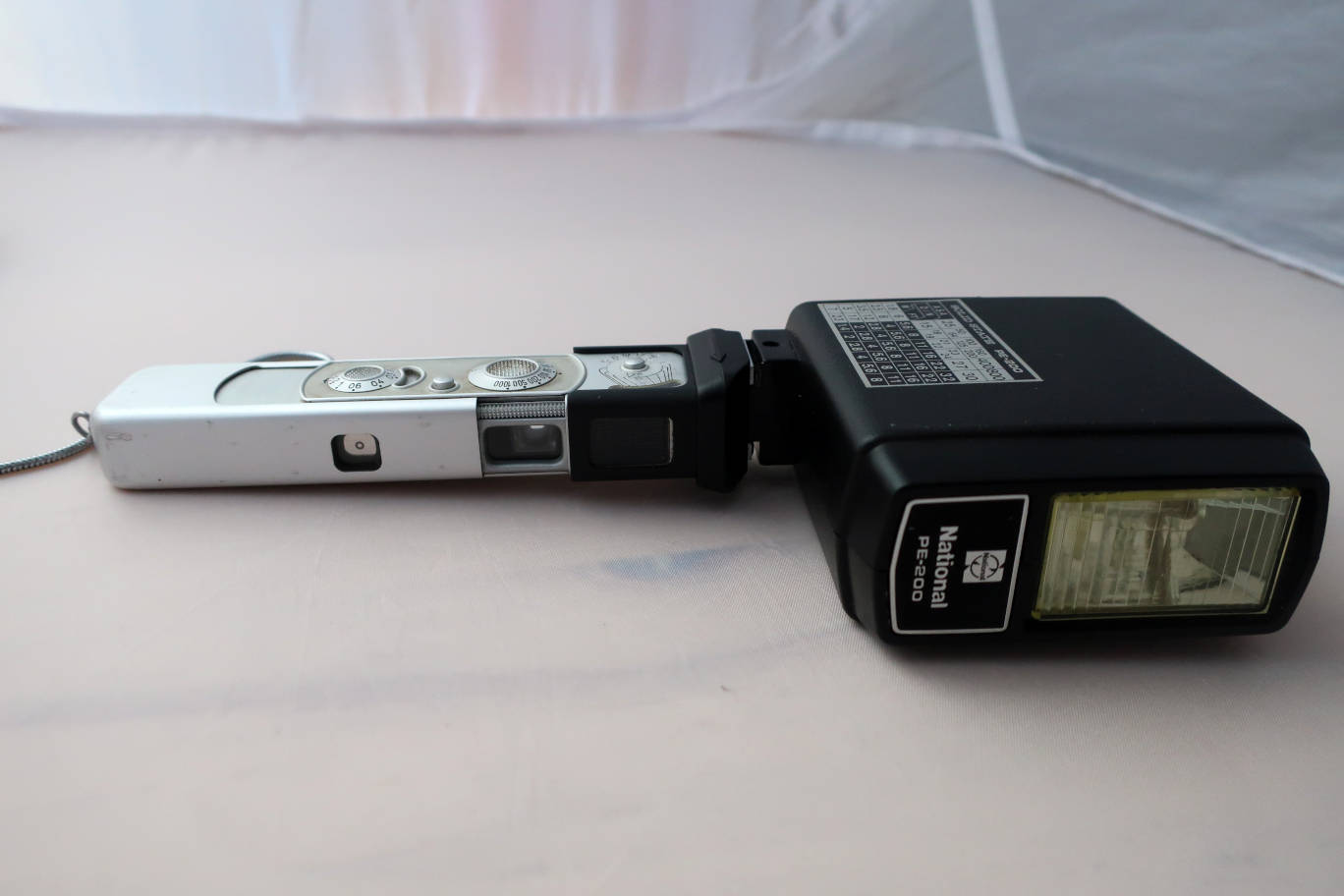 Camera, B model, and flash.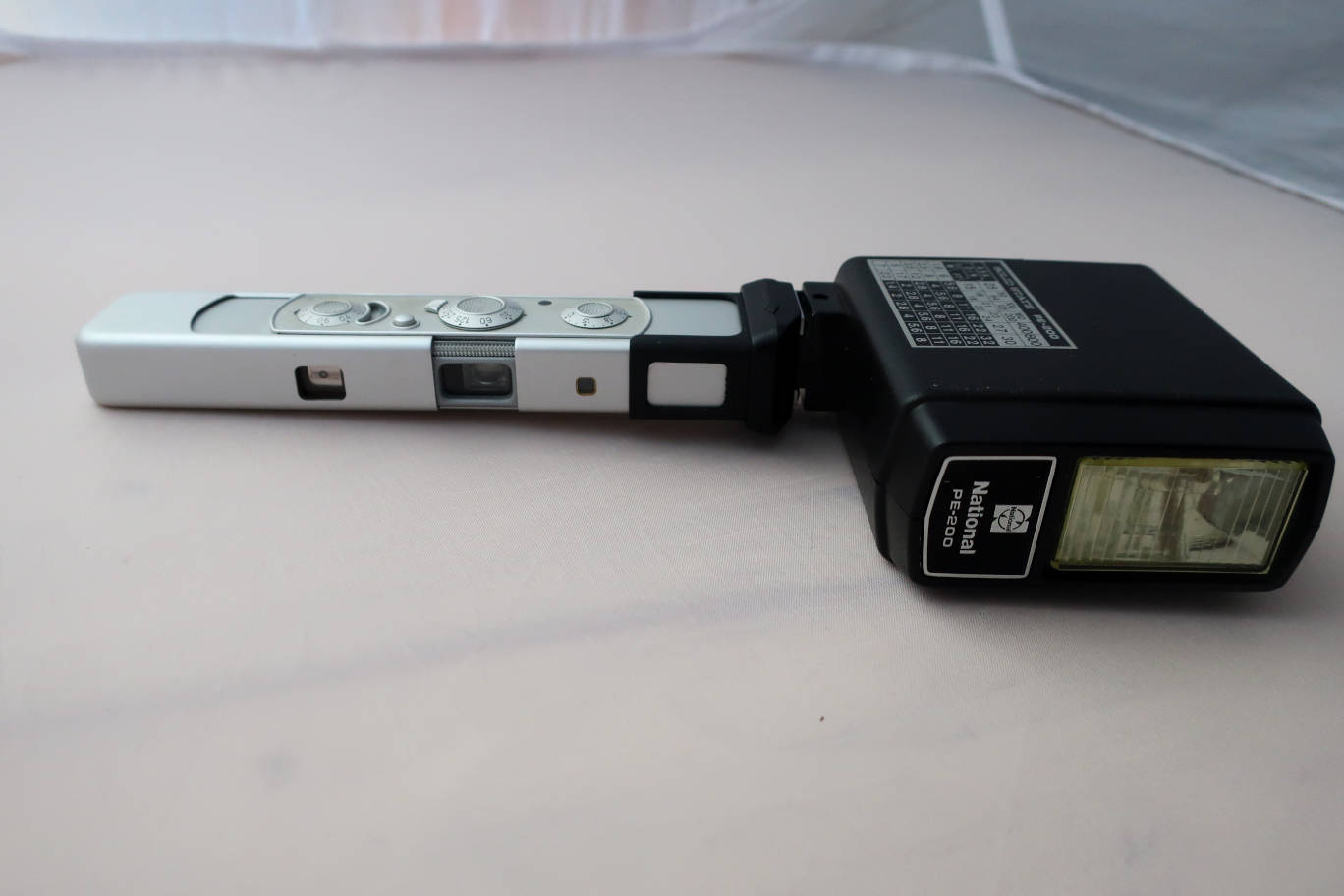 Camera, C model, and flash.

The

right angle finder

. This is more like a spy camera gadget, you can take photos without raising your camera to your eyes and look through the viewer. but as the mirror is smll, it's only a guess.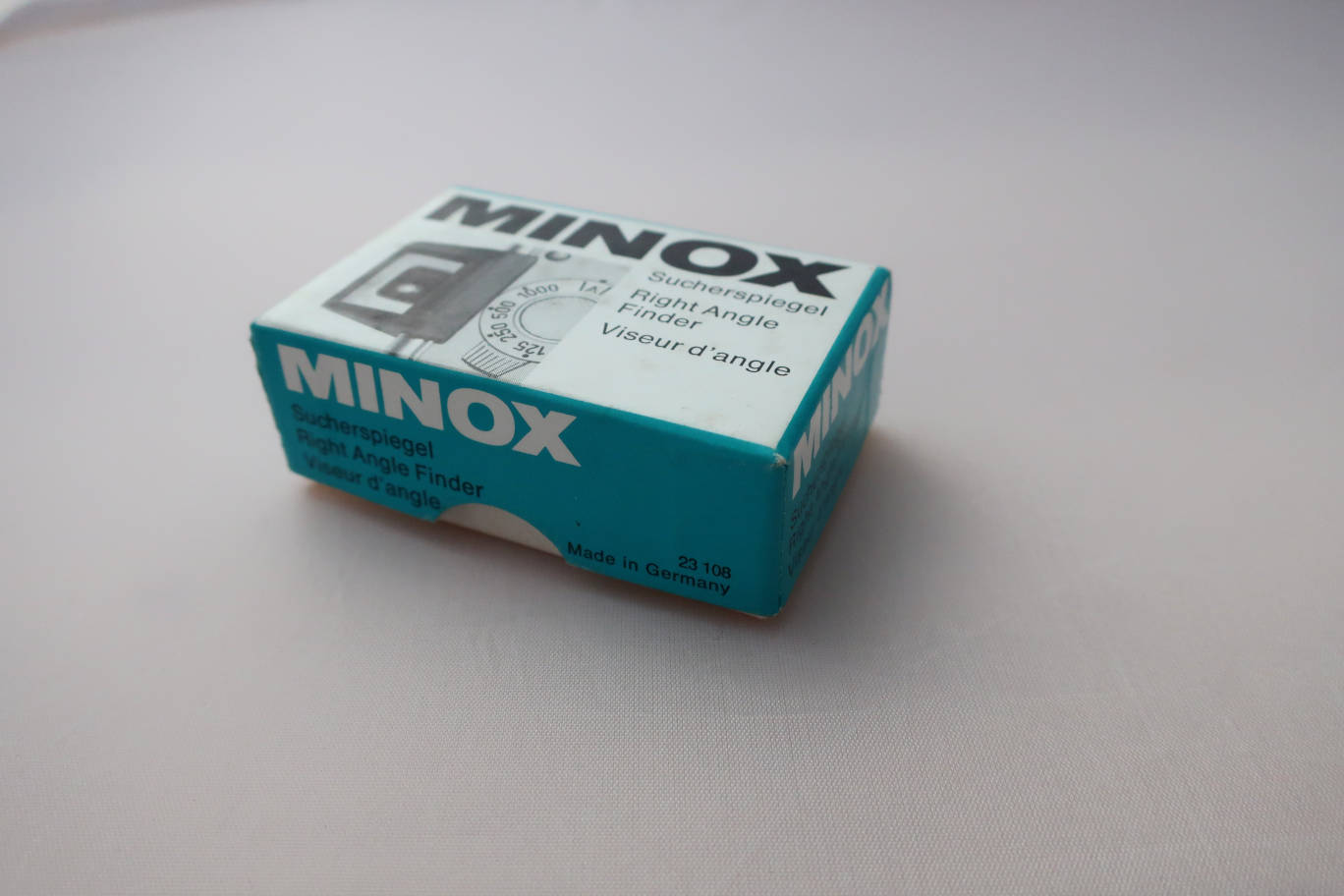 The box.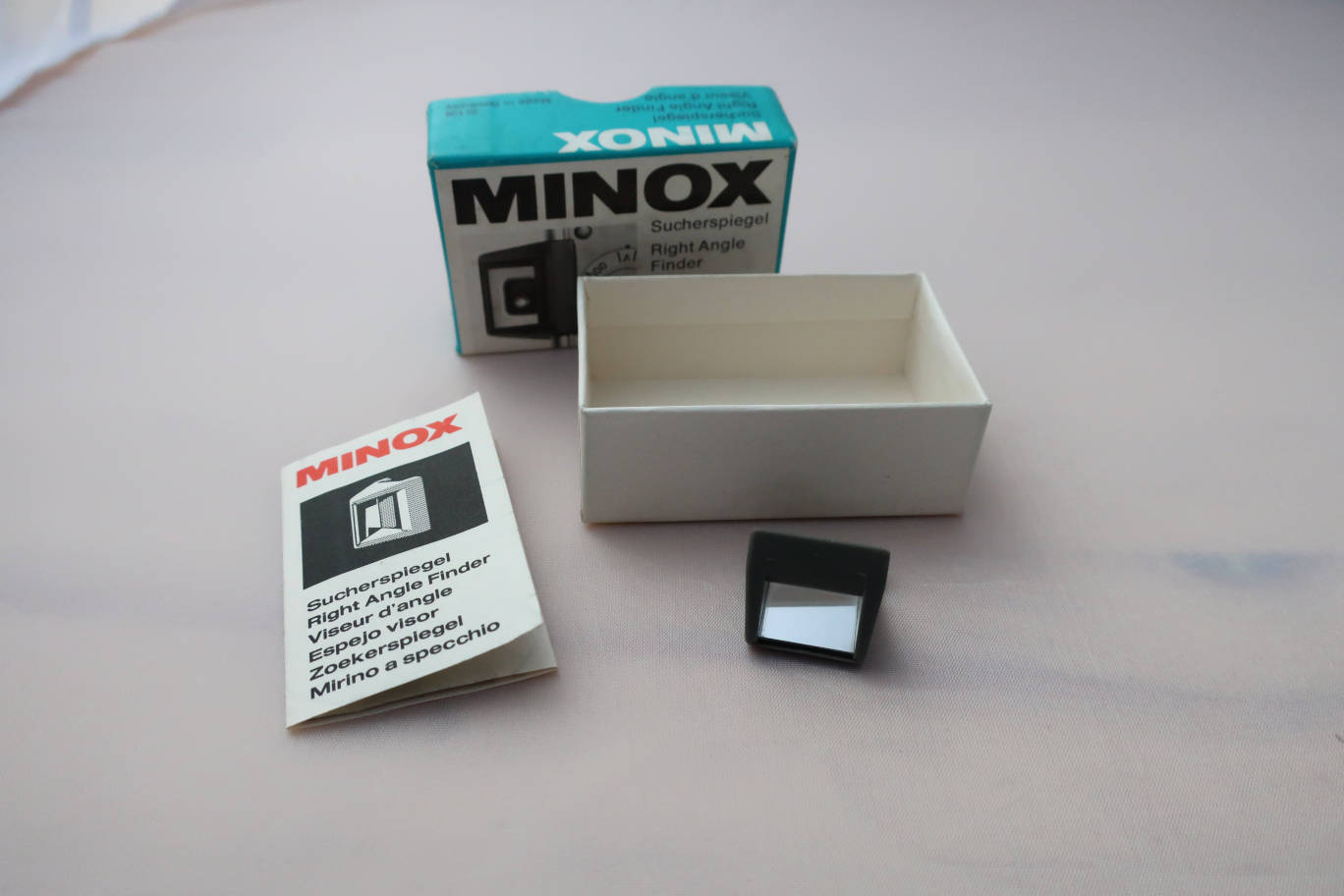 What's in the box.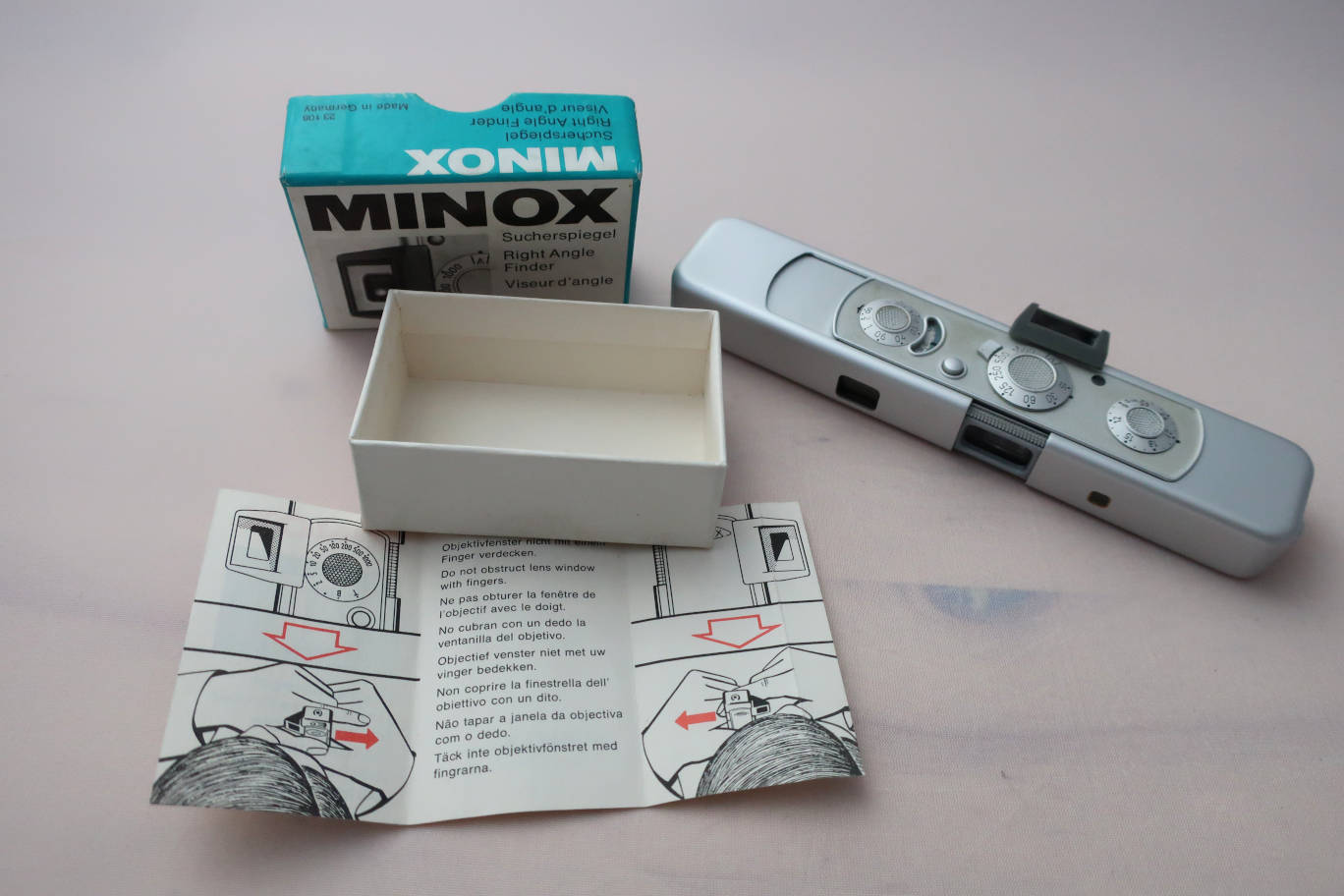 Finder mounted and instructions.



Image from the viewer in the finder.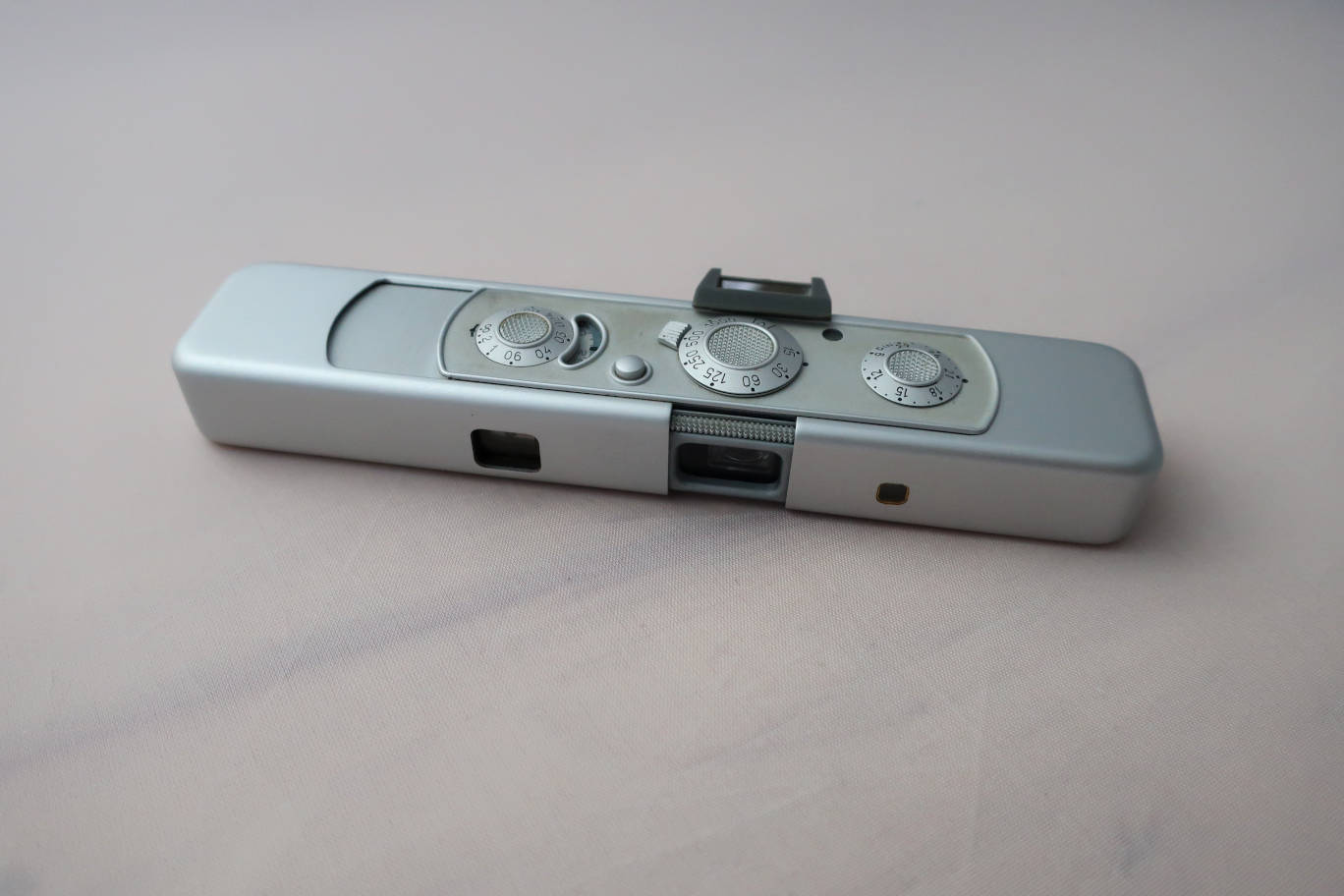 Seen from the front. The finder could also be mounted turned towards the bottom so that you could hold the camera over your head and spy into the finder. Needs good eyes!



Minox Meter



This is a must have if you are the owner of a Minox A which has no meter. It's very small and the design matches the camera.

It was built by Gossen. It's 55 x 30 x 18 mm and it weighs 53gr. It has a viewer to aim precisely.





The meter in its case. It has a chain, just as the camera.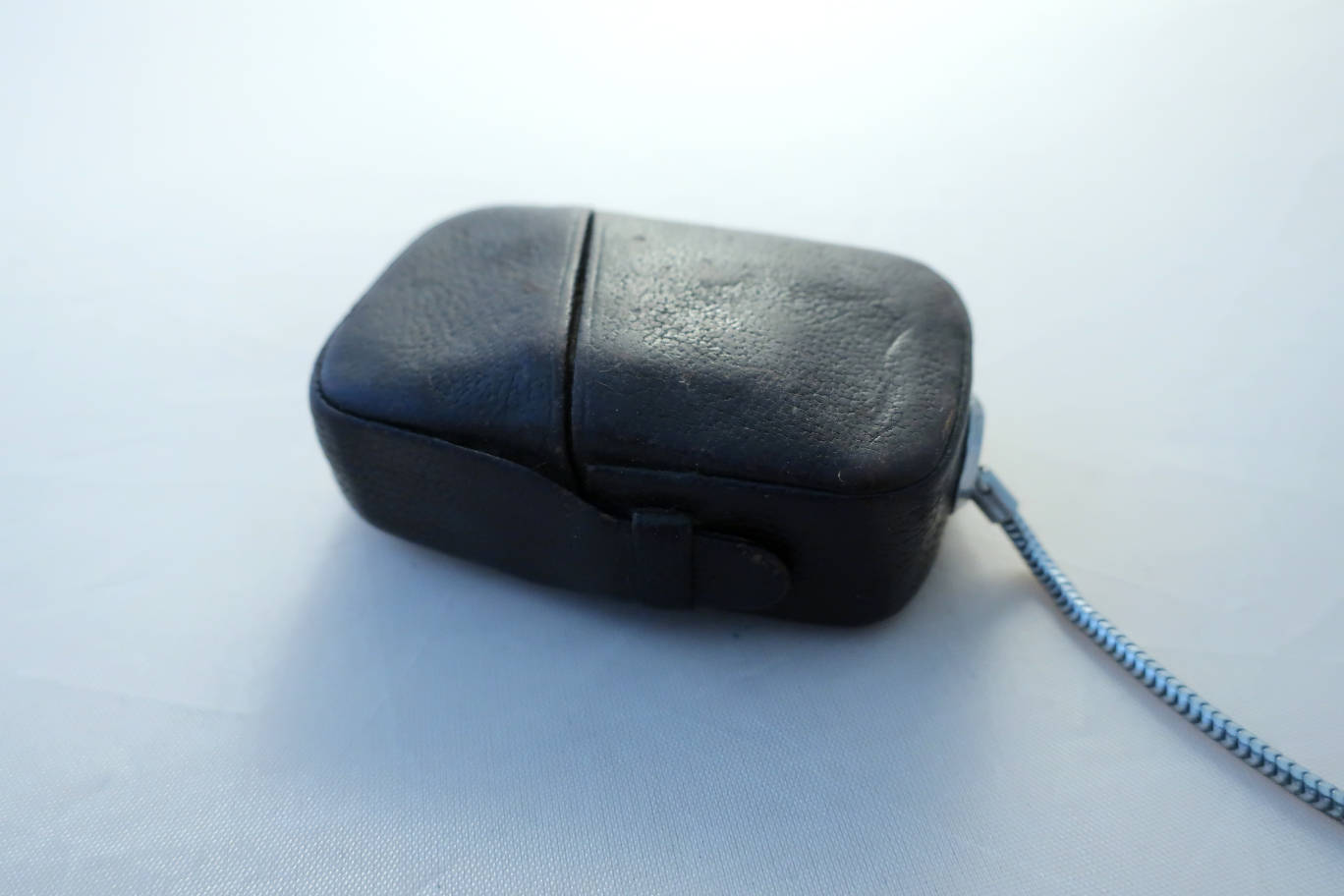 The meter leather case.



Meter and case.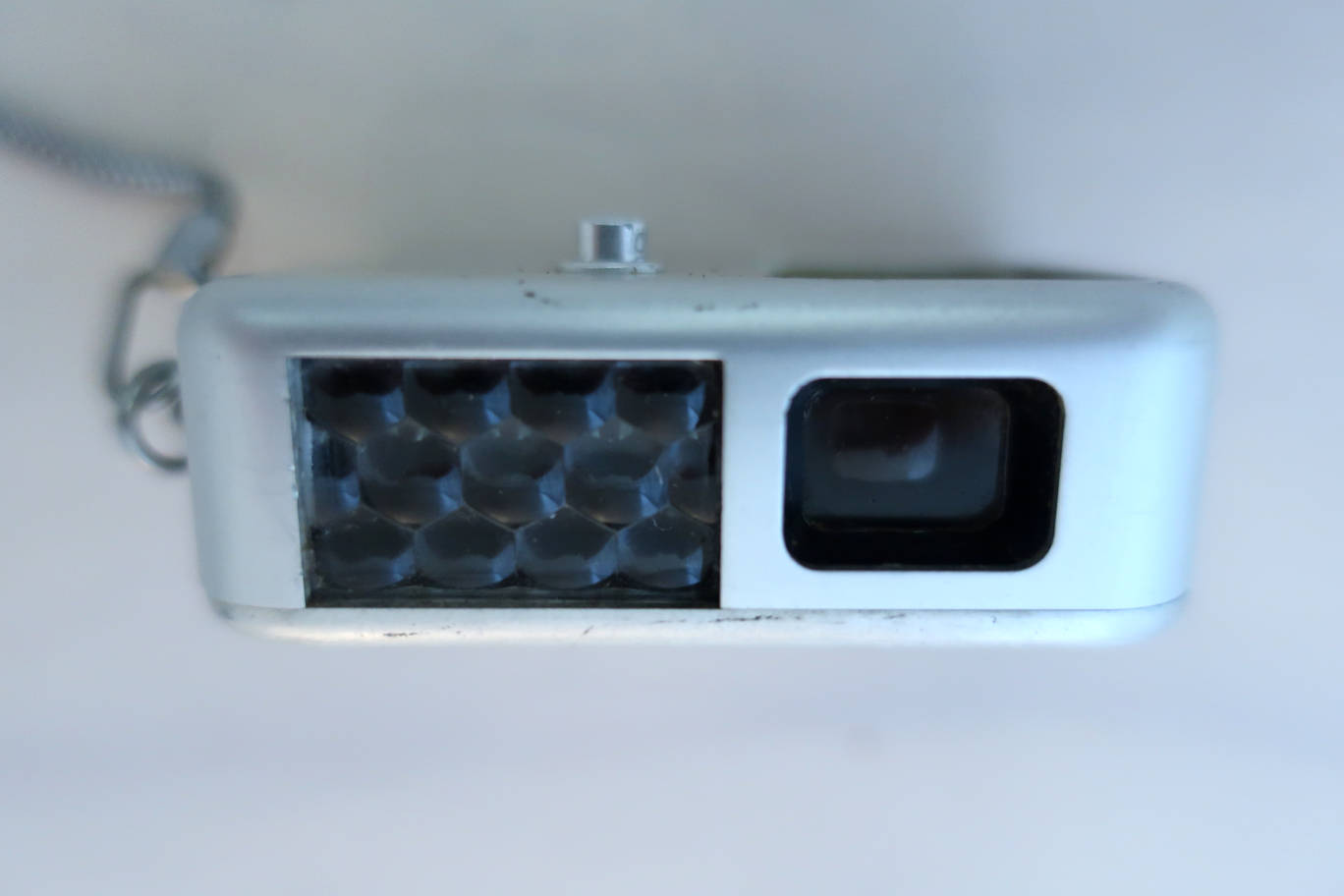 Front. Selenium cell and viewer.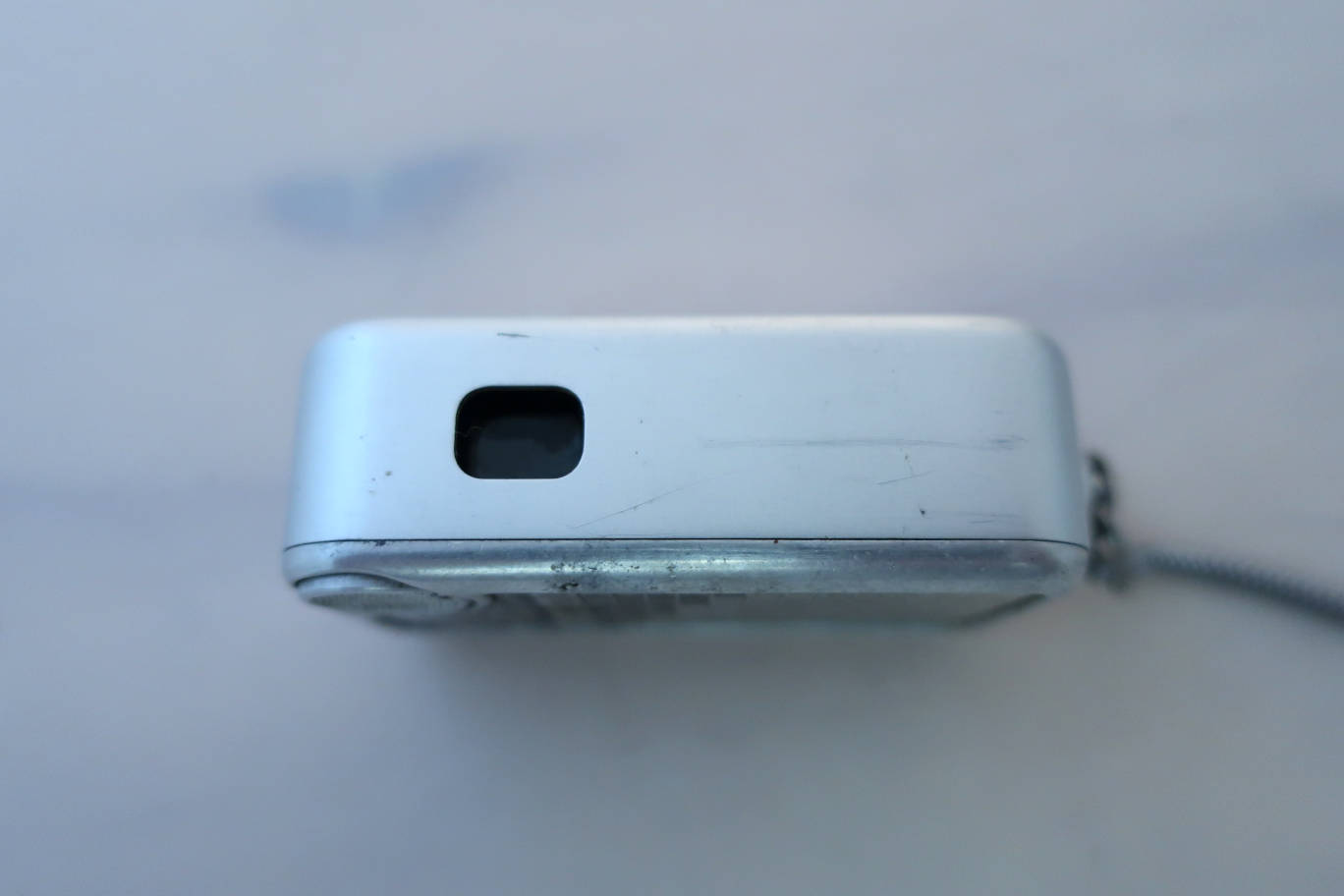 Back. Viewer eyepiece. If you look through the viewer and aim the subject, the measuring will be fine.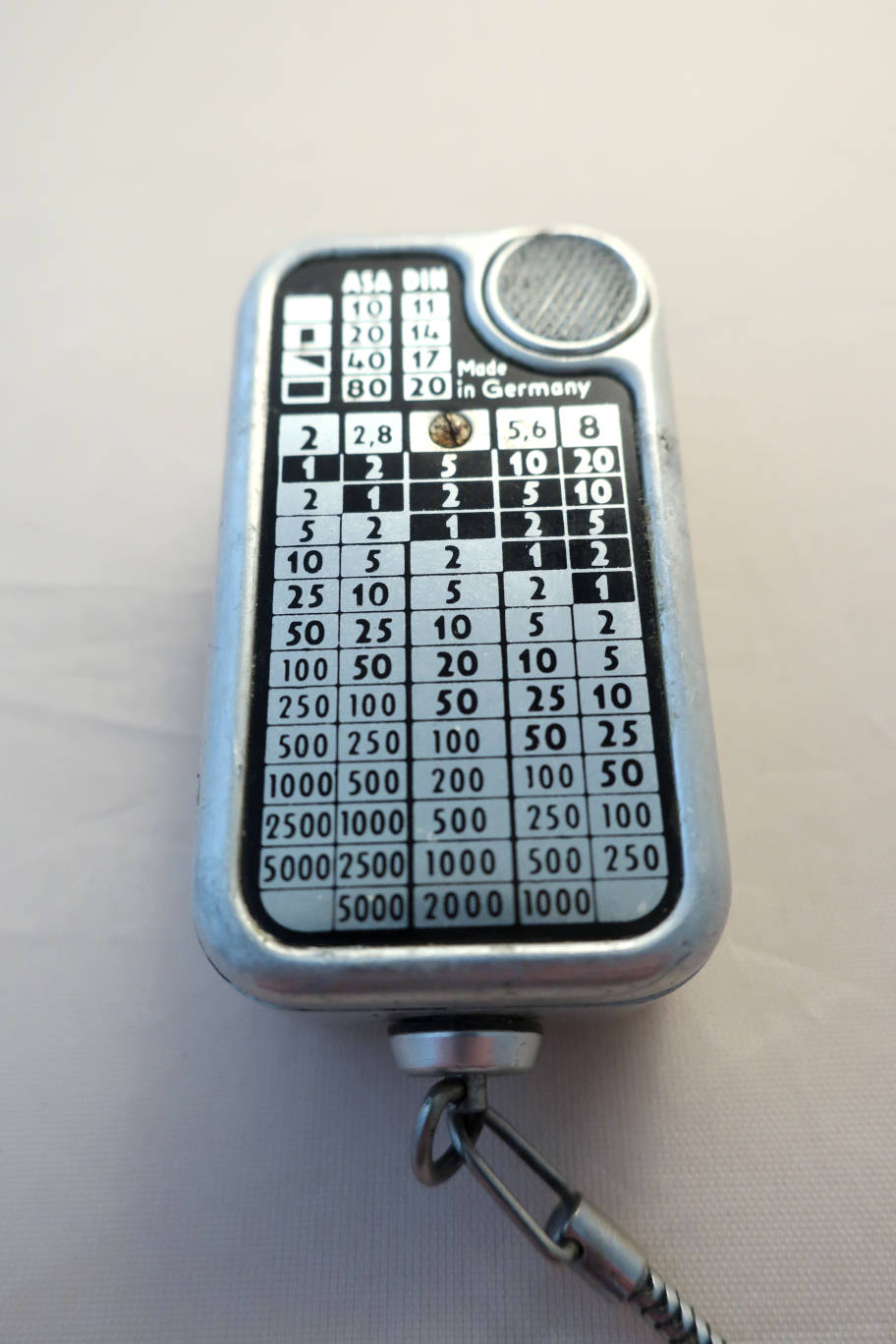 Bottom. The wheel turns the speed indications on the top window according to the film speed. The chart is a conversion chart for other cameras with apertures. The middle column is for the F 3.5 aperture of the Minox, to ther left there are F2 and F2.8 figures, to the right F5.6 and F8 figures. You read the measured value on the front, go down the middle column to find your reading and then have matching figures to the left and right.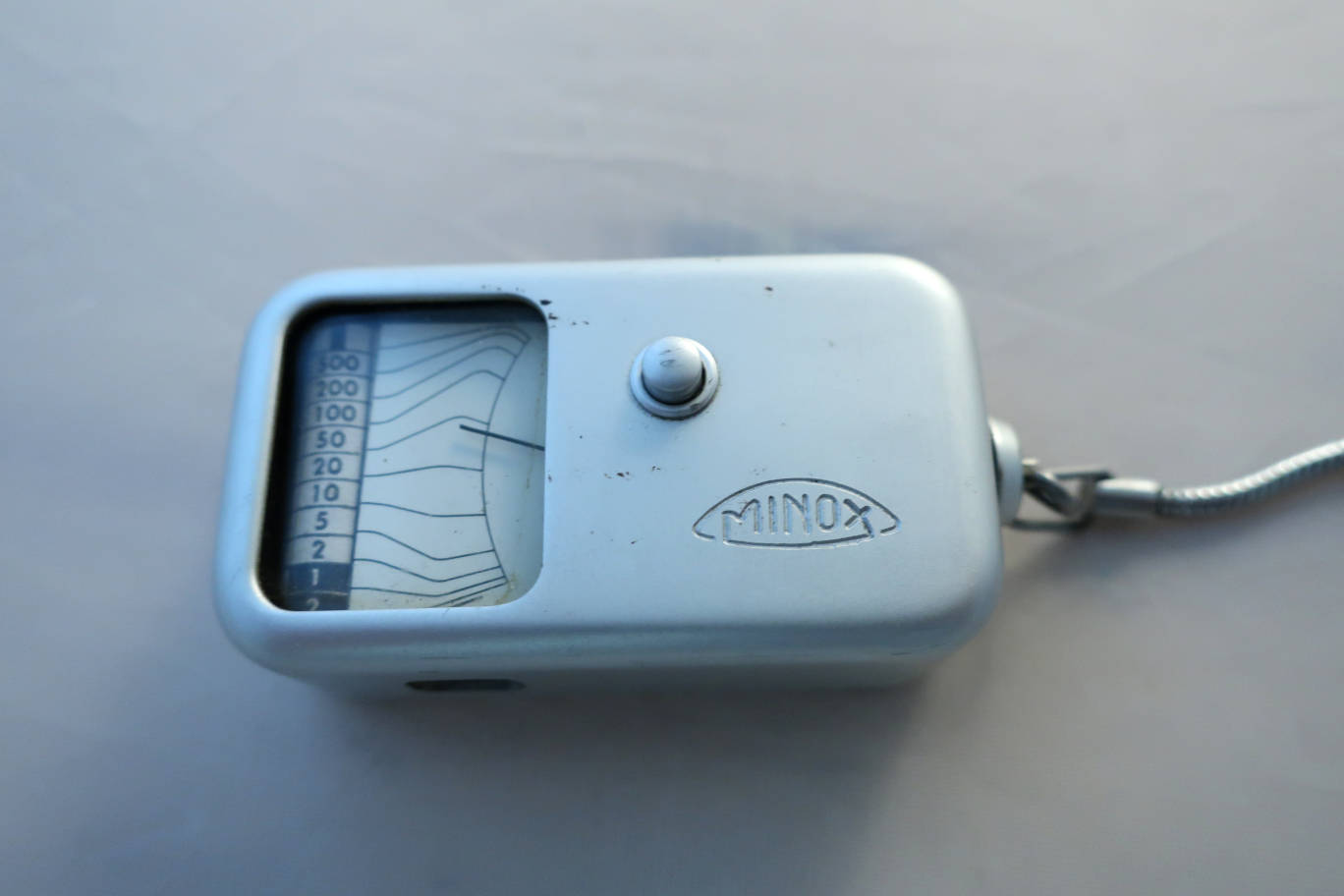 Top. Scale set to 20° ISO.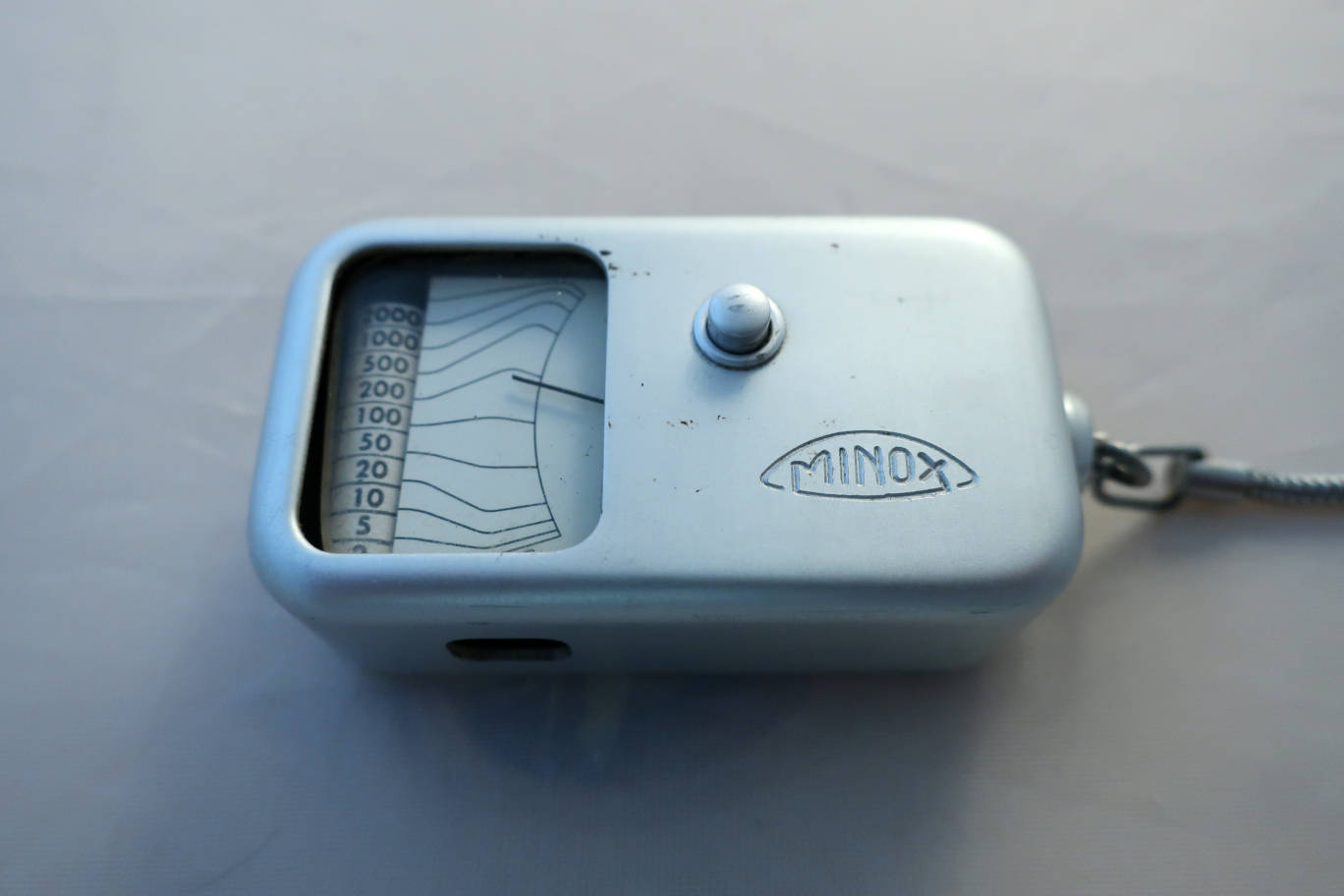 The same light situation, scale set to 80° ISO.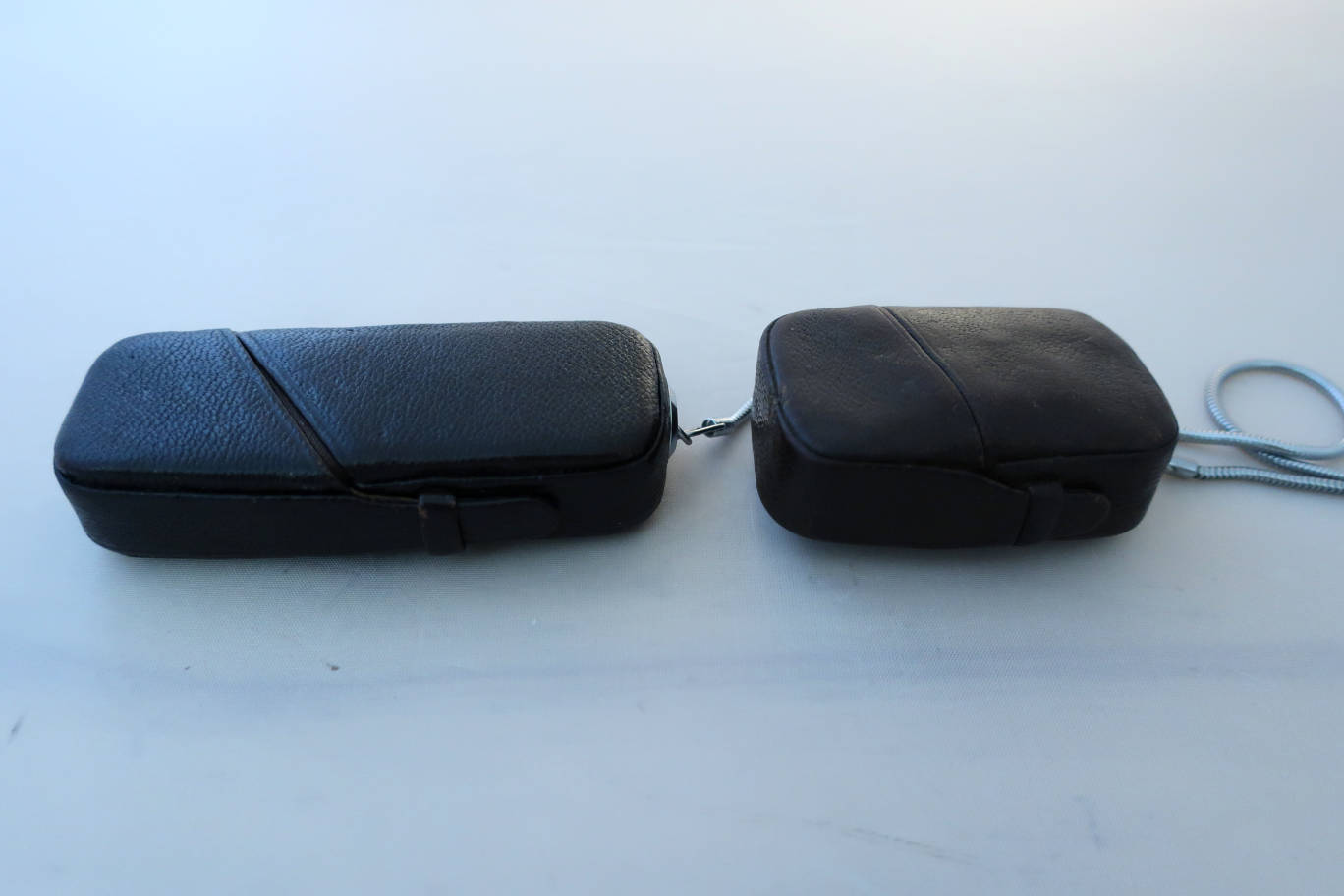 The meter and a Minox A, both in their matching leather cases.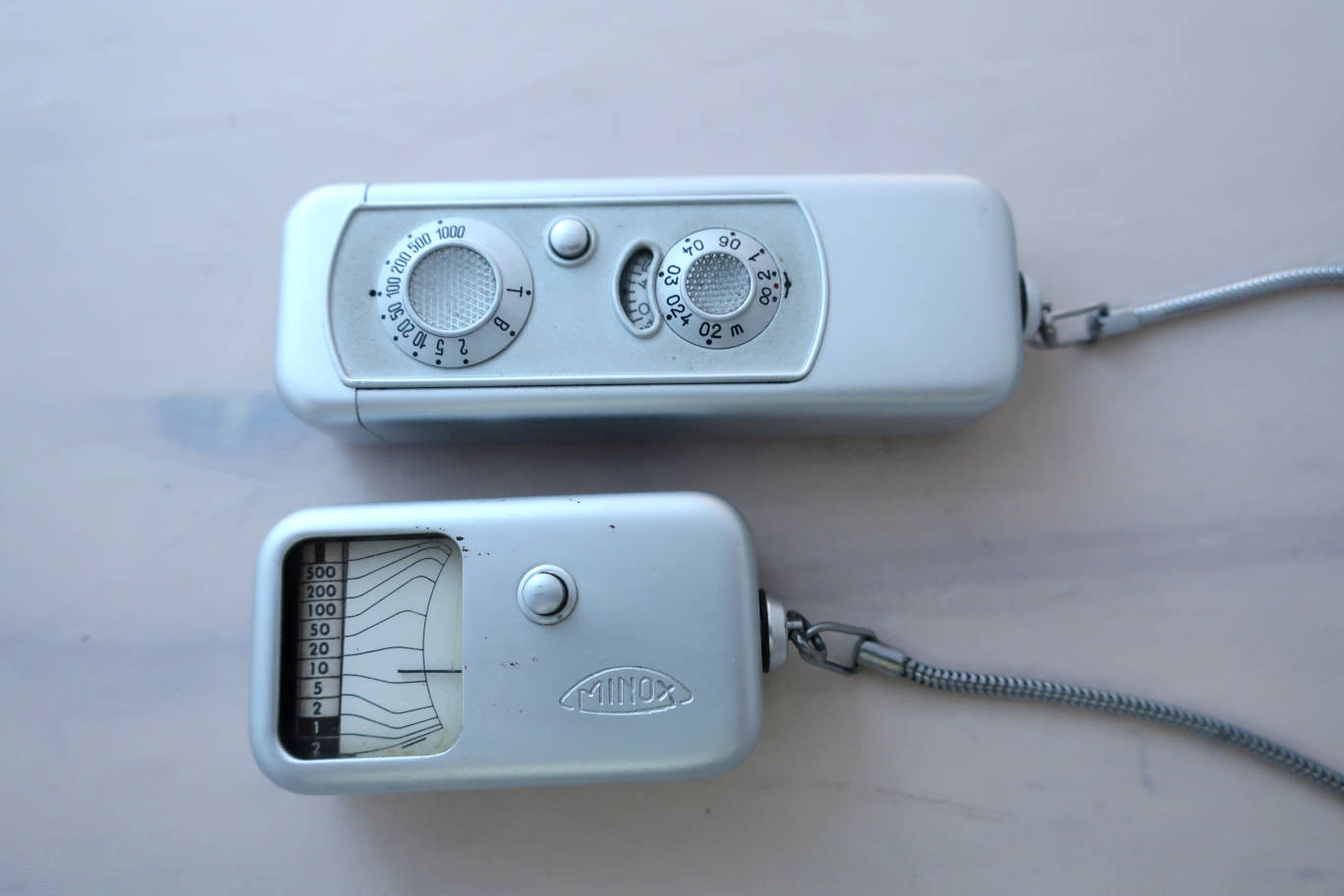 Meter and Minox A.

Some remarks about f

ilm and film cartridges

:

Minox film as an unusual and very small format, the film width is only 9.2 or 9.25mm. So they opted very early for double cartridges, you just drop the cartridge into the camera, no fiddling with take-up spools or anything other. On the other hand they opted for a camera pressure plate, more precise than a cartridge plate as with 110 film. So

Minox sold its own film in double cartridges.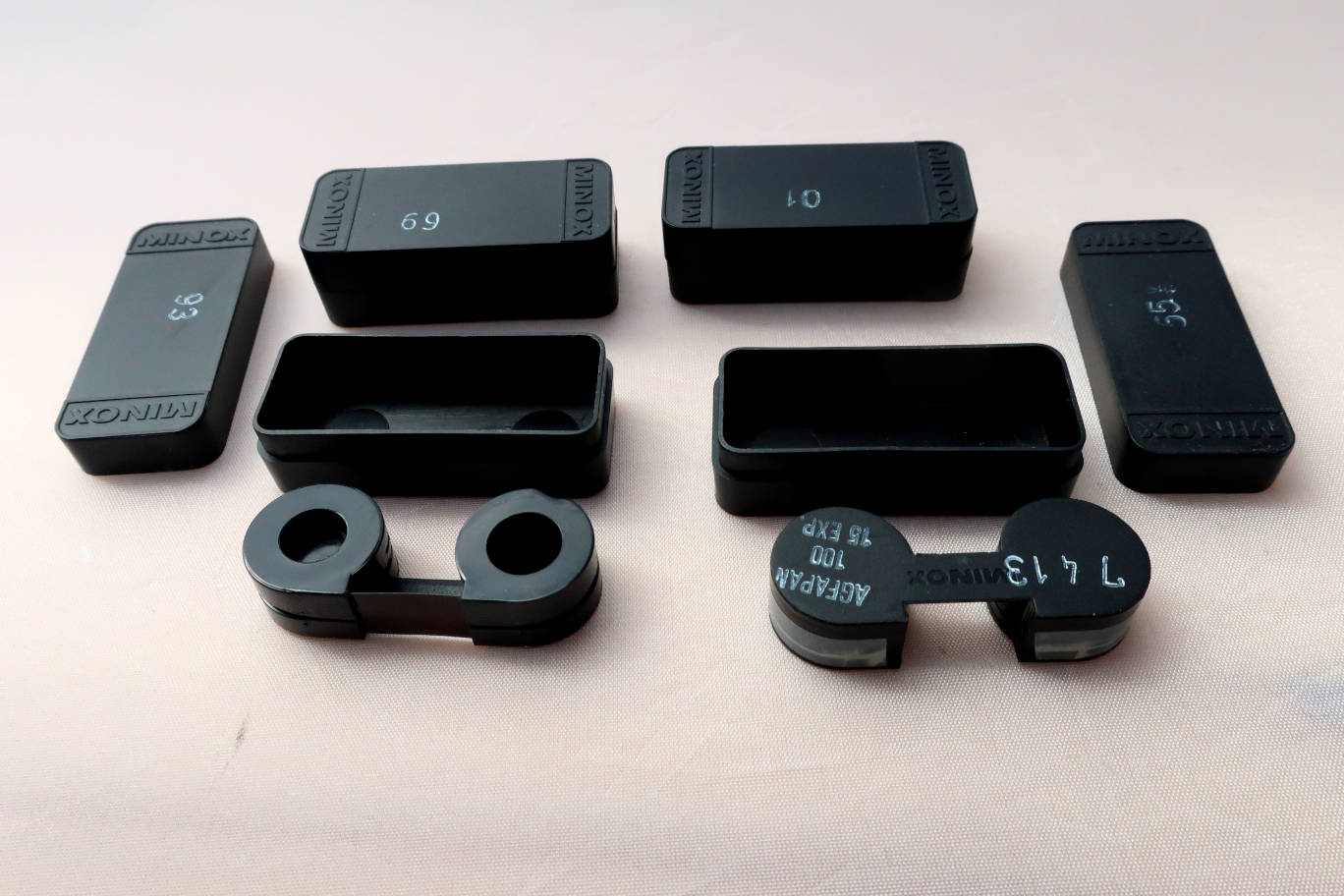 Some Minox cartridges with their cases.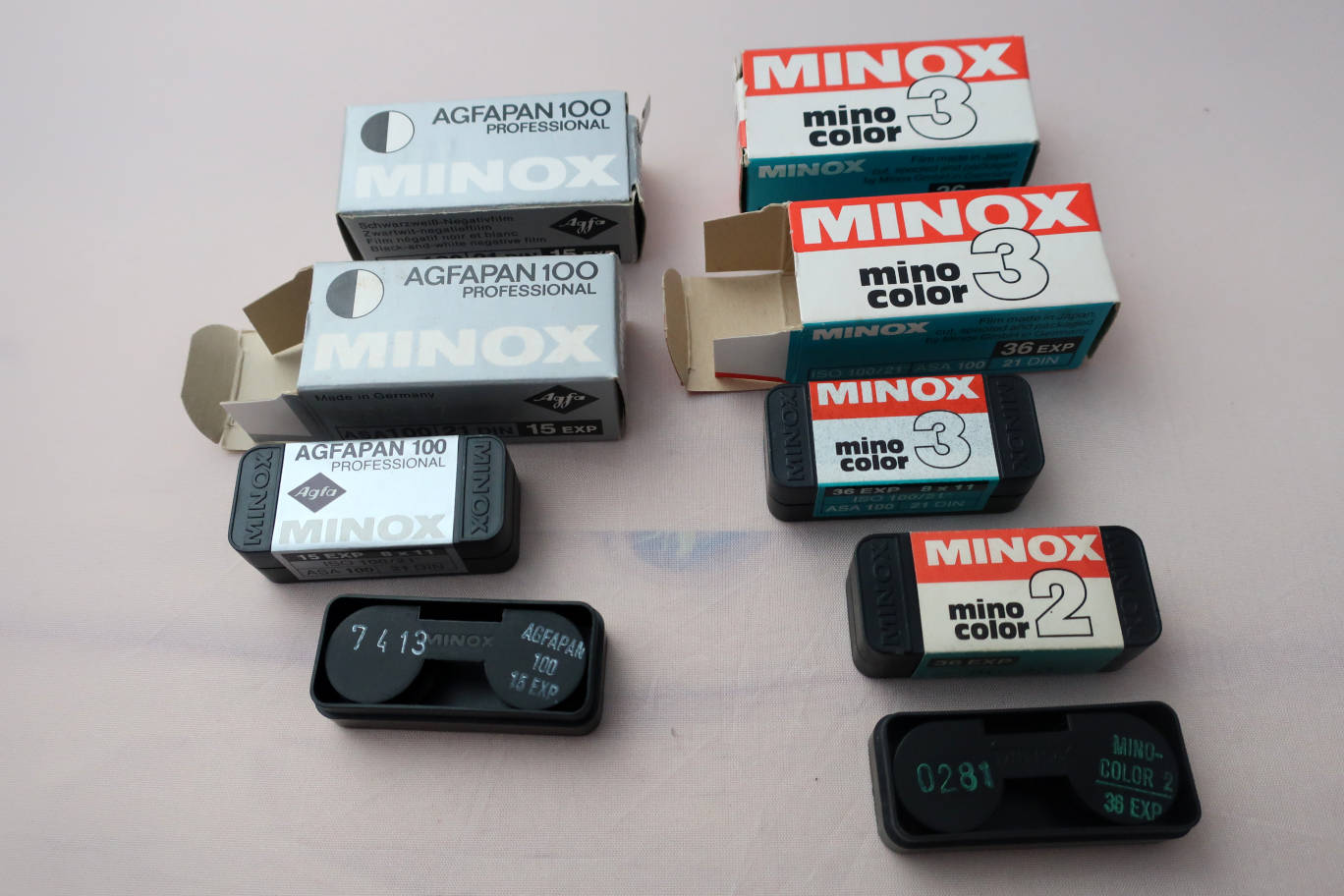 Expired Minox film. Most of this film is more than 20 years old.

The results with expired film are mostly deceiving, especially with colour film. You may push b&w film, if you develop it yourself, but again, grain will deceive you. There is some fresh film available, but it's extremely expensive.

Minox cartridges are reloadable.
You will need a film slitter to get 9.25mm film. There is a simple slitter which cuts ordinary 135 film into 2 strips and will give you 6 loads from a 36 exposure cartridge. You will also need a good changing bag or you have to work in absolute darkness.


I wish you patience and perseverence loading film. Once you're used to it, it's easy. It might help to waste one strip of film to try in daylight and get a routine. So let's enjoy these old little camera beauties.

I general: If you need a cartridge for your camera, look for offers of cheap or broken items that come with a cartridge. Ask the seller, if the interior is not shown. Single empty cartridges tend to be too expensive. Expired maker's film can also be a source.


For more general information about cartridges, please consult

this page

.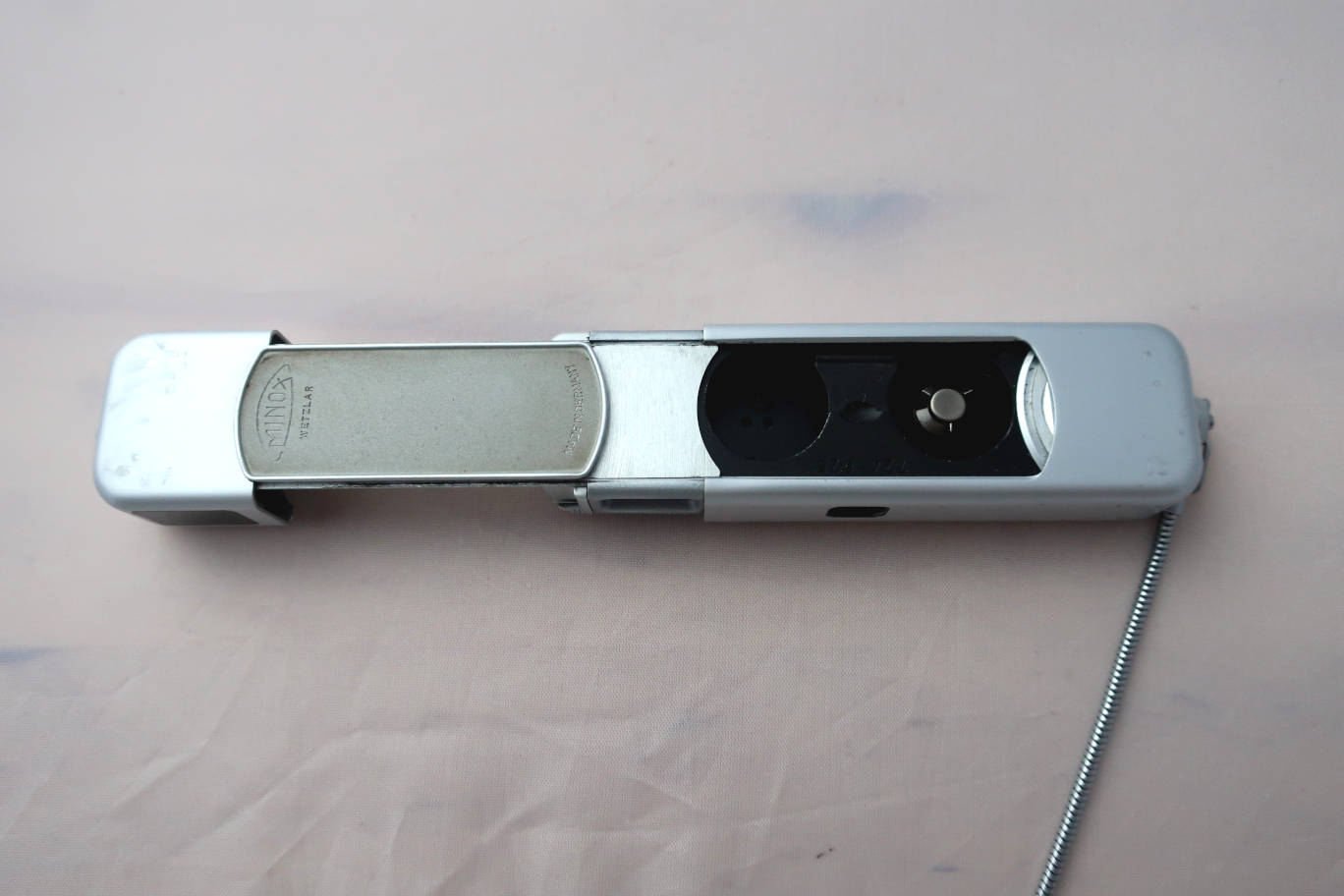 A Minox film chamber.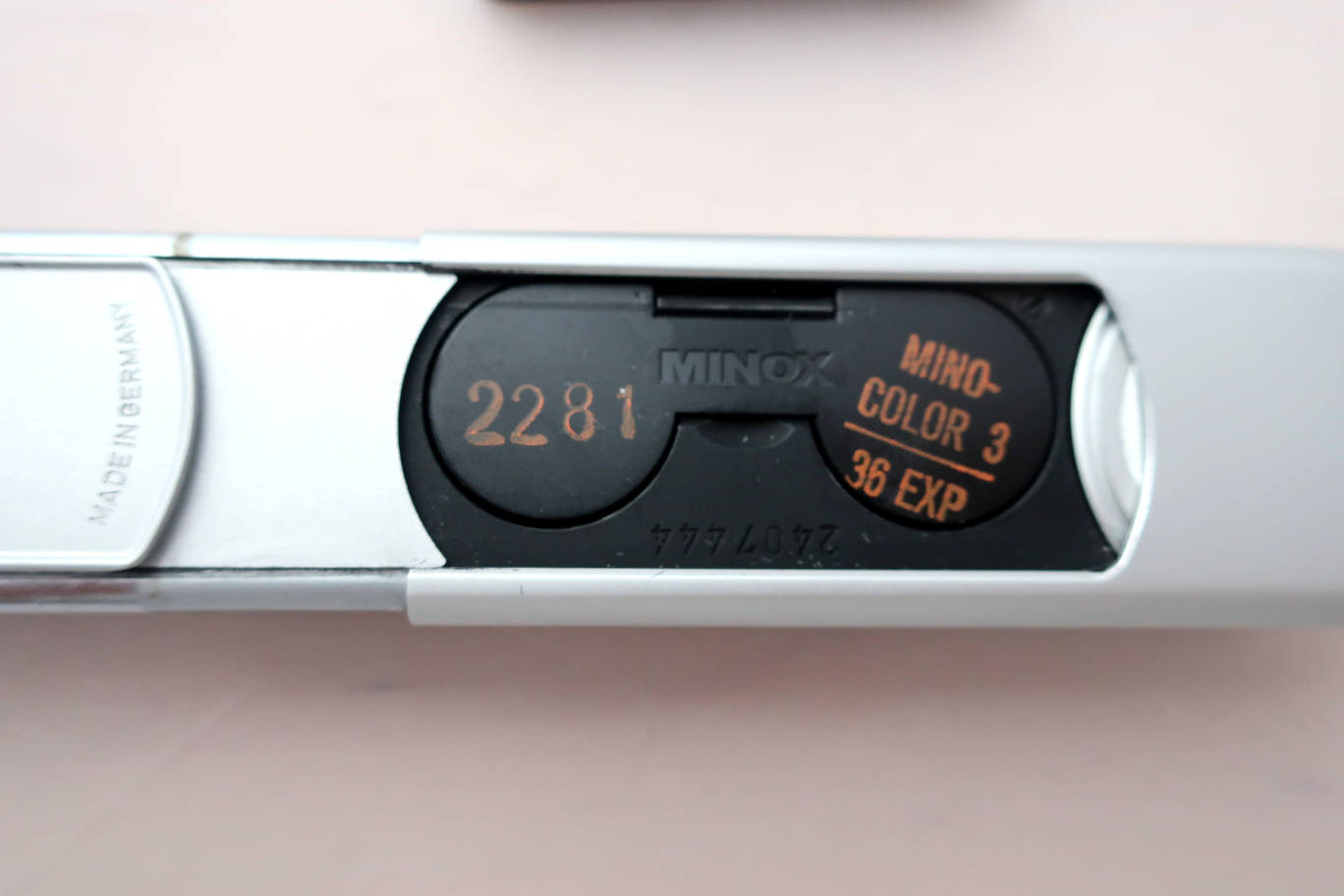 Cartridge loaded.